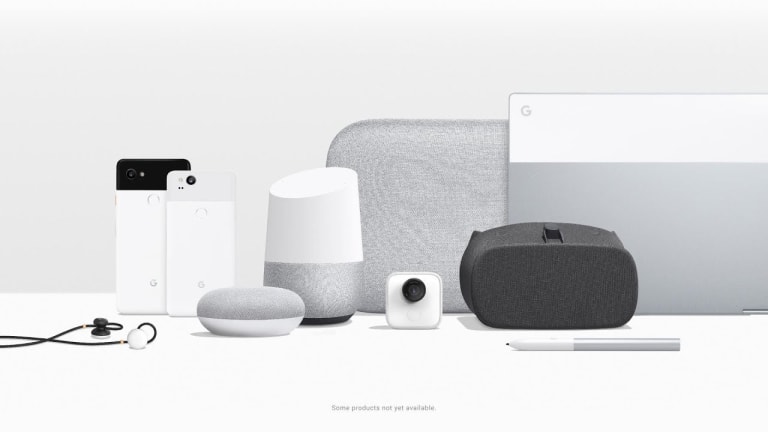 Wrap Up | Google's 2017 Made by Google products
New phones, new laptops, new speakers, new everything.
Google made a lot of announcements today, but at the top of the list was the long-awaited sequel to the Pixel smartphone. The Pixel 2 ($649-$949) comes with either a 5.0" or 6.0" AMOLED display and features water-resistant aluminum unibody construction, a Snapdragon 835 processor, an 8MP front and 12MP rear camera, 4GB of RAM, 64GB or 128GB of storage, stereo speakers, and a 2700mAh battery in the 2 and a 3520mAh battery in the XL. 
The phone will also come in four colors and features the ability to squeeze the phone to activate Google Assistant, dual-pixel autofocus, a built-in security module to protect from malware, unlimited photo storage in original quality, and an always-on listening mode that automatically detects what music is playing. 
Google Home
Google shrunk and enlarged their Home line today with the introduction of the Home Mini and Home Max. If you already own a Google Home speaker, the Mini ($49) is ideal for adding their Assistant technology to the rest of your home while the Max ($399) is built for both music and voice control  and adds dual 4.5" woofers and custom tweeters.
Google Pixelbook
Taking on the iPad is the brand new Google Pixelbook, a tablet/laptop hybrid that is ultra-thin at 10.3mm and weighs just 2.4 lbs. The versatile design can stand on its own, be used as a traditional laptop, or you can fold the keyboard to sit flush against the display and use it as a tablet. 
The Pixelbook (from $999) features a 12.3" display, a Core i5 or i7 processor, 8 or 16GB of RAM, 128GB/256GB/1TB of SSD storage, a 10-hour battery, USB-C charging , and an aluminum unibody construction. It also can be accessorized with the new Pixelbook Pen that not only lets you draw, but it also has a button you can hold to circle images or text to find out more information about that content. 
Google Pixel Buds and Clips
Alongside the hardware announcements, Google announced a couple of new accessories: Pixel Buds and Clips. Pixel Buds (above - $159) is the company's first wireless headphone and features 5 hours of battery life and 24 hours of multiple charges from the charging case. What's really interesting is that the headphones feature a personal translator that translate what you say out of your phone's speaker in your selected language and it will then translate the language spoken to you through your ear buds. 
Clips ($249) is a wireless camera that works with both Android and iOS and allows for video and photography to be captured without anyone having to hold a camera or phone. The camera connects directly to your phone without the need for an internet connection and has built-in machine learning to remember the people you often spend time with and learns to capture clips of them. 
For more on Google's new product line visit store.google.com