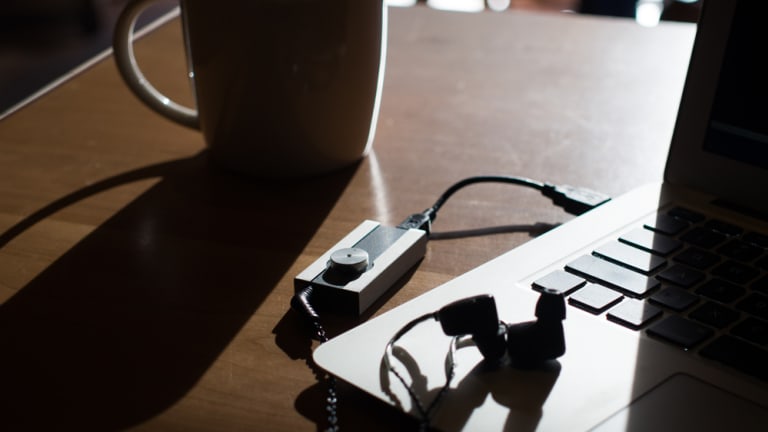 Schiit Audio's Fulla Headphone Amp
One of the best deals in audio from one of the most underrated audio companies in America.
If you're looking to see what all these audiophiles are talking about, Schiit Audio has a great place to start with their new Fulla DAC/AMP. It's one of the least expensive options at on the market for $79 and it's Made in the USA. Can't say that about many of your electronics. 
Plug Fulla into your computer's USB port and you'll instantly improve your listening experience with one of the best DACs available and lots of power output for most headphones and in-ear monitors. It's definitely one of those desk essentials if you've got a great pair of headphones that could use some love with the help of a proper amplifier.
Cheat Sheet 
Frequency Response: 20Hz-20Khz, -0.1db, 2Hz-200KHz, -3dB
Maximum Power:
16 ohms: 400mW RMS per channel
32 ohms: 300mW RMS per channel
50 ohms: 220mW RMS per channel
300 ohms: 40mW RMS per channel
THD: <0.004%, 20Hz-20KHz, at 1V RMS
IMD: <0.005%, CCIR
SNR: >101db, A-weighted, referenced to 1V RMS
Crosstalk: >-67dB, 20 Hz-20KHz
Output Impedance: Less than 0.4 ohms
Gain: 1.5 (3.5db)
USB Receiver: C-Media CM6631A
Bit Depth and Sample Rates Supported: 16/44.1 to 24/96, including 24/88.2
DAC: AKM AK4396 with Analog Devices ADA4610-based filter stage
Output stage: Analog Devices AD8397 high-current rail-to-rail amplifier
Headphone Output Size: 1/8", unlike all of our other amps
Power Supply: Via USB, with +/- 5V rails via high-current negative rail generator with inductor filtering and local regulation
Power Consumption: 0.8W typical