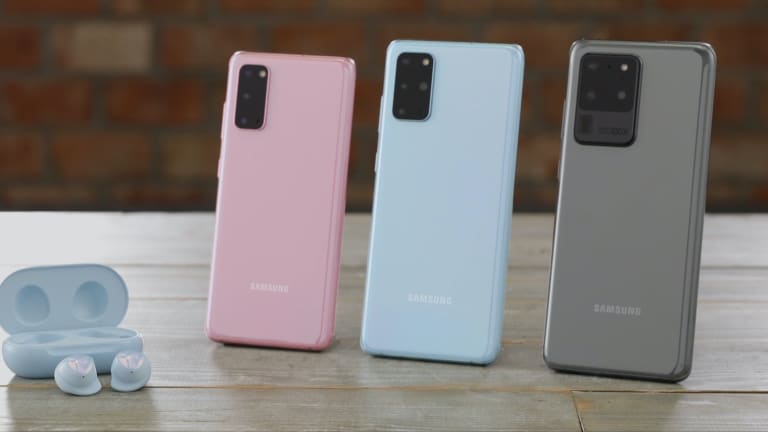 Samsung reveals an onslaught of new smartphones at this year's Unpacked event
The electronics giant reveals a new line of powerful smartphones.
Samsung took to the stage at its annual Unpacked event and unveiled some huge upgrades to its Galaxy smartphone lineup. First up is the Galaxy S20, which comes in three models: the Galaxy S20, S20+, and the S20 Ultra. The S20 features a 6.2" Quad HD+ OLED display with 3200x1400 resolution and a 120Hz refresh rate, 5G connectivity, a triple camera system with 12MP ultra-wide and wide-angle cameras, a 64MP telephoto, and a 10MP front camera. When it comes to performance, the phone has 12GB of RAM (8GB for LTE model), 128GB of storage, a 4,000mAh battery, and an Octa-Core processor. 
The S20+ bumps the screen size up to 6.7" and features mostly the same specs with the key differences being the addition of a DepthVision camera, a 256GB and 512GB storage options in the 5G model, and a 4,500mAh battery. The flagship S20 Ultra adds a 6.9" display, a 108MP sensor, 100x zoom, a 40MP front camera, and a 5,000mAh battery. All three phones in the lineup will feature Fast Wireless Charging 2.0, an in-display Ultrasonic Fingerprint sensor, and 8K video capability. 
Samsung also announced the Galaxy Z Flip, a new foldable smartphone that hides a 6.7" OLED display in a compact form factor. The phone also features a 1.1" cover screen, a 12MP wide-angle rear camera, a 10MP front camera, 8GB of RAM, 256GB of storage, an Octa-Core processor, and a 3,300 mAh battery. Additional features include a dedicated fingerprint sensor, fast charging, wireless charging, and Wireless PowerShare. 
Accompanying the new phones is the Galaxy Buds+, a new version of its wireless earbuds that have been developed in collaboration with AKG. The earbuds feature a 2-way speaker system with an added tweeter and woofer for enhanced bass and treble and three mics for clearer voice recognition.  The earbuds will also offer plenty of battery life with eleven hours of playback on a single charge and a total of 22 hours when you factor in the charging case.