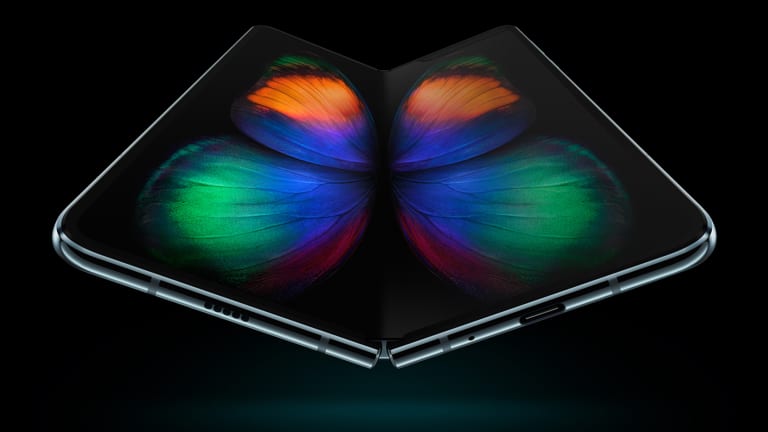 Samsung announces a new folding phone and its 10th generation flagships
Time to welcome the era of folding smartphones.
Samsung took to the stage today to announce its latest flagship devices and introduced a whole new category of smartphone, the Galaxy Fold. The Galaxy Fold is their new ultra-premium device that features a 7.3" QXGA+ Dynamic AMOLED display when unfolded and a 4.6" HD+ Super AMOLED on the front of the device. It also features a rear triple camera design with three types of lenses (16MP ultrawide, 12MP wide angle, 12MP telephoto), a dual lens front camera (10MP selfie, 8GB depth camera), 12GB of RAM with 512GB of storage, and a 4,380mAh battery. The phone will hit stores on April 26th for $1,980.
The announcement most people were waiting for was the reveal of the S10 line, which will now come in four screen sizes with what the press is calling a "hole-punch" display. The S10 series starts with the lower-priced S10e, which features a 5.8" Full HD+ AMOLED display, a 7nm or 8nm 64-bit processor, 6/8GB of RAM, 128/256GB of storage with microSD expansion, and a dual rear camera system with a 12MP wide-angle and a 16MP ultra-wide lens and a 10MP front camera. 
The Galaxy S10 (6.1" Quad HD+ AMOLED) and S10+ (6.4" Quad HD+ AMOLED) will feature 7nm or 8nm 64-bit processors, 6GB/8GB/12GB (S10+) of RAM, 128/256GB of storage with microSD expansion, rear Triple Camera with 12MP telephoto, 12MP wide-angle, and a 16MP ultra-wide, 10MP front camera (10MP/8MP dual camera for S10+), Ultrasonic in-display fingerprint reader, 3,400mAh battery/4,100mAh (S10+), and a ceramic case option. A 6.7" S10 with 5G support was also previewed for release in the near future. Pricing starts at $749 for the S10e, $899 for the S10, and $999 for the S10+. 
Samsung also showed off a new line of wearables that include their own AirPods competitor with the Galaxy Buds and two new smartwatches, the Galaxy Active and the Galaxy Fit. Both devices also showcase an interesting new feature that is available in the S10 called Power Sharing, which lets you wirelessly charge your Qi-compatible devices on the back of the phone's surface.