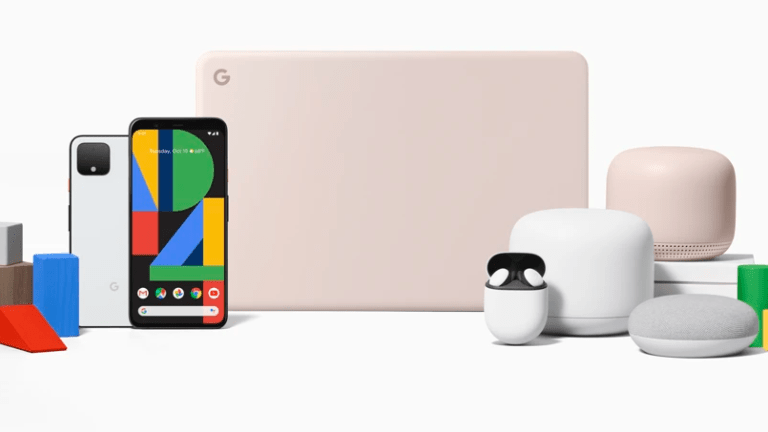 Recap: Made by Google 2019
The tech giant announced its latest smartphone, new earbuds, a new Chromebook, and more.
Google pulled back the curtains today to reveal their latest products at the Made by Google 2019 event. The biggest announcement today was of course, the all-new Pixel 4 (from $799). The new smartphone comes with either a 5.7" or 6.3" OLED display, 6GB of RAM, a Qualcomm Snapdragon 855 processor, and a new dual camera system that adds a telephoto lens. The camera upgraded camera will feature the quality of images in low-light settings with their next-generation Night Sight, which also now features astrophotography capability and Live HDR+ so you can preview the final shot in real-time as you take it. The new phone also boasts 6GB of RAM, a 90hz display, a new Pixel Neural Core chip, and a Motion Sense feature that uses a radar sensor so you can use your hand to do things like silence your ringer or hit snooze on your alarm without ever touching your phone. 
The company's smart speakers have been fully updated with the addition of the new Nest Mini and Nest Wifi. Nest Mini ($49) replaces the Google Home Mini with a top-to-bottom redesign that now has stronger bass, a proximity sensor that illuminates the speaker as your hand gets closer to show you where the volume controls are located, it can also you hear you better in noisier environments, and it can dynamically adjust the volume of the Assistant based on how loud or quiet the background noise is. 
The new Nest Wifi (from $249) simplifies your Wi-Fi setup with a powerful router and a Wifi point to give you the best connection possible in your home. A two-pack is enough coverage for a 3,800 square-foot home and you can always add additional points if necessary. Nest Wifi points also double as smart speakers so you can have access to both your music and Google Assistant.
The Pixel Buds ($179) have undergone a full overhaul with a true wireless design that ditches the cable of the previous model and now gets 5 hours of battery life and a total of 24 hours of battery life with the included charging case. The new Pixel Buds also feature an improved fit, a custom-designed 12mm dynamic speaker driver, sweat and water resistance, two microphones in each earbud for clearer phone calls, and hands-free access to Google Assistant. 
The new Pixelbook Go (from $649) is their latest ultra-portable Chromebook that now packs 12 hours of battery life, a 13.3" touchscreen display, and a fresh new design with a textured bottom that makes it easier to carry. The Pixelbook Go is offered in a variety of configurations that include a Core m3 base model with 8GB of RAM and 64GB of storage all the way up to a Core i7 (8th gen) model with 16GB of RAM and a 4K Ultra HD Molecular Display.