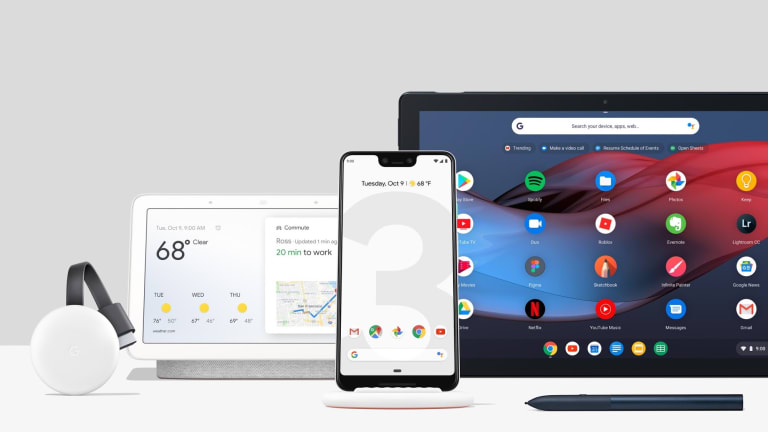 Google reveals the Pixel 3, Pixel Slate, and Home Hub
The new products help celebrate the company's 20th anniversary.
Google is celebrating their 20th birthday with a new lineup of products that focuses both on mobile and the home. First up is their highly-anticipated Pixel 3 smartphone (from $799), which will come with a 5.5" (443 ppi) or 6.3" (523 ppi) OLED display. The phone will feature 12.2MP rear cameras with specially designed software for improved low-light photos and better zoom quality and an 8MP front camera with a wide-angle lens that's great for selfies. It will also have 4GB of RAM, a Snapdragon 845 processor, and 2915mAh batteries with wireless charging and 18W fast charging via USB-C. 
On the tablet side, Google announced the new Pixel Slate (from $599), an iPad Pro competitor with a 12.3" screen that they're calling the "Molecular Display", which features 293 ppi and 6 million pixels, making it the most pixel-dense screen in its category. It will also feature a Dual Cam front camera, Intel Core processors, up to 256GB of storage, up to 16GB of RAM, up to 10 hours of battery life, dual front-firing speakers, optional keyboard, optional stylus, and two USB-C slots for rapid charging (2 hours with a 15 minute charge) and 4K display output. It will also be incredibly lightweight, weighing in at just 1.6 lbs. 
For their connected home strategy, the company gave Google Assistant a face with the new Home Hub ($149). The device acts as a central hub to make it easier to tackle your everyday routines such as your schedule, cooking recipes, and of course, controlling your home. The device can connect to virtually all your smarthome devices and with Google Assistant, everything can be accessed with a simple voice gesture. Home Hub features a 7" touch display, a full range speaker with a 2 mic array, and Wi-Fi and Blutooth 5.0 wireless connectivity.