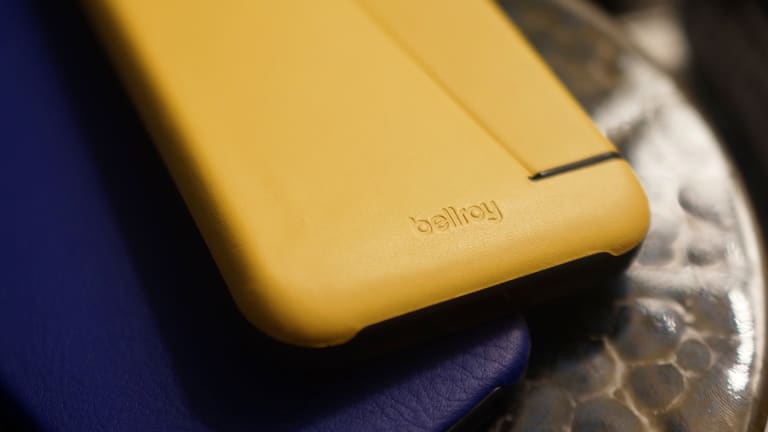 Case Study | 12 Cases for the iPhone 12
Our favorite new cases for the Apple's latest and greatest smartphone.
Whether you've got a naked iPhone 12 in hand or you just ordered a new 12 Mini or 12 Pro Max today, odds are you need some proper protection for that thin slice of glass and metal. Sure, Apple's new Ceramic Shield technology does make the display much more durable but glass is glass and it will still crack and the rear glass doesn't make use of the technology at all. So here's a list of twelve of our favorite iPhone 12 cases to perfectly complement your new precious piece of hardware. 
Bellroy Phone Case
Bellroy's vibrant Phone Cases offer solid protection with a mix of luxurious leather and protective polymer. The company also offers the design in a "3 Card" model that integrates a cardholder while still keeping the case slim. 
$35-$75 (all phone sizes), bellroy.com
Apple MagSafe Cases
You can't talk about cases without talking about Apple's options. This time around, they've got a neat little trick with MagSafe integration that magnetically attaches the case to your phone and also allows for accessory attachments like a removable card wallet. 
$49-$59, apple.com
UAG Outback
UAG's Biodegradable Outback adds sculpted bezels to a minimalist case design in a material construction that is 100% compostable. It also has an internal honeycomb structure for added shock absorption. 
$39 (all case sizes), urbanarmorgear.com
Otterbox Symmetry
Otterbox now offers a slimmer, low-profile option called the Symmetry. It's got the rugged construction the brand is known for as well the extensive drop protection, which is 3x the military standard and it's also antimicrobial. The company will also soon launch a minimalist option called the Aneu, which offers full MagSafe compatibility. 
$49 (all case sizes), otterbox.com
Caudabe's ultra-slim Sheath and Veil 
For those who don't want to sacrifice the ultra-thin feel of their phones, Caudabe's Veil (right - $25) brings super-thin scratch protection and full exterior coverage with added grip. For added shock-protection, the brand also offers the Sheath (left - $29) that is only .9mm thin and is drop tested up to 6.6ft. 
$25, caudabe.com
Moment Thin Cases with MagSafe
Moment's Thin Cases are built for those who want to enhance the photo capabilities of their phone with the company's modular, MagSafe-compatible accessory system that lets you attach lights, tripods, lenses, and more. 
$49, shopmoment.com
Incipio Organicore
Incipio's Organicore Collection features cases built using a plant-based material that offers enhanced 8 ft. drop protection, impact struts, and a 100% compostable design. 
$39, incipio.com
Nimble Disc Case
Nimble's Disc Cases feature a clear design that is made from 100% recycled compact discs. The cases are drop-resistant up to 6ft and feature antimicrobial protection, scratch-resistance, anti-yellowing, and MagSafe compatibility. 
$39 (all sizes), gonimble.com
Root Co. Shock Resist Case
Root Co.'s Shock Resist Case is an ultra-rugged option that brings an outdoor-ready upgrade with mil-spec protection and bottom bumpers that work with carabiners like the brand's Gravity Mag Reel. 
$45-$55, dsptch.com
Nomad Rugged Leather Case
Nomad updates their Rugged Case this year with a new natural Horween Leather option that will age beautifully. with use. It also features a shock-resistant bumper for up to 10 ft of drop protection. 
$49, nomadgoods.com
Native Union Clic Case
Native Union's new Clic Wooden cases use genuine walnut and oak wood with one-of-a-kind natural wood grain patterns so no two cases are alike. The case features a slim design with full phone coverage and MagSafe compatibility. 
$39 (all sizes), nativeunion.com
Rimowa Groove Cases
Rimowa's Groove Cases take the brand's iconic luggage design and translates that styling into protective a slim layer of protective polycarbonate and shock-resistant TPU rubber. 
$90 (12/12 Pro and 12 Pro Max), rimowa.com