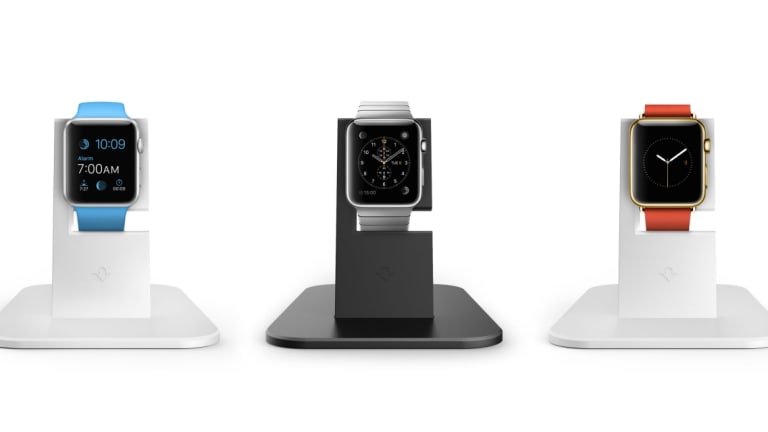 So you've bought the Apple Watch, now what? | Updated
A select assortment of accessories to consider for your shiny new piece of wristwear.
So you've decided to plunk down your hard earned money on Apple's shiny new piece of wristwear. What now? Well, as you know the Apple accessory market is a huge industry and is only going to get bigger with the addition of the watch. We've collected some of our favorite accessories that you'll definitely want one or two of.
The Nomad Stand
Don't let its simple design fool you, the Nomad Stand is crafted from solid aluminum and stealthily hides a spot to place your magnetic charger so you can easily dock your watch. The stands come in space grey or silver and as you can see, they look especially great with the link bracelet models. 
$59, available for pre-order on hellonomad.com.
Griffin's WatchStand
If you're looking for something a little lower in price, Grffin's WatchStand not only delivers on value, but not only provides a dock for your watch, it allows you to sit your iPhone in landscape mode so you can have your two favorite Apple devices all in one place. 
$29, available now at griffintechnology.com.
Twelve South HiRise
The Twelve South HiRise is for the type who wants to keep their watch in immaculate condition while still having it propped up at a comfortable angle. The brushed metal stands feature silicon padding in all the right places to protect it from any potential dings and if you have one of the leather band watches, the HiRise features a leather landing pad for the buckle to rest on. 
$49, available at twelvesouth.com.
CalypsoTimeless Moment
The most luxurious of the options comes from leather accessory maker Calypso, who has crated an arch of soft Italian leather which also lets you dock and charge your watch. 
$129, available at calypsocrystal.com.
CalypsoTimeless Tempo
When you're not wearing your watch on your travels, you're going to need somewhere to keep it safe and secure. The Tempo is a stylish leather watch wallet for storing your watch and charger, or even an Apple Watch and your mechanical for when you want to go analog for the day. 
$129, available at calyspocrystal.com.
The NomadPod
You're going to see quite a number of battery options for the Apple Watch, but this one has our attention with its clean and clever implementation. Remove the lid of the pod and you can wrap the cord around the battery and replace the lid and you've got four full charges which should keep your battery full for a good chunk of the week without ever looking for a wall outlet or USB port.
$59, available now at hellonomad.com.
ElevationLab's The Night Stand
This is one of the most minimal of the bunch, but also one of the most versatile. The Night Stand is made from silicone so you won't have to worry about scratching the dock or the watch and it comes with 3M adhesive strips for mounting on any flat surface. 
$29, available at elevationlab.com.
The Mophie Watch Dock
We're keeping our fingers crossed for a great battery solution from Mophie, but until then the mobile power experts have released a beautiful dock accessory that combines an aluminum stand with hits of leather for a modern and sophisticated look. 
$59, available at mophie.com.
PROPER's Watchkeeper
One of our favorite accessories on the list is this hybrid case/charger called the Watchkeeper from Australian accessory brand PROPER. The Watchkeeper delivers a hard shell case that's great for travel and it also integrates Apple's magnetic charger so you're ready to go once you've reached your destination. 
$59, available at studioproper.com.au.
Hodinkee Travel Rolls
This one is for the true watch lovers out there. So you love your new Apple Watch, but you also still love your old vintage Rollie. This travel roll has six pockets giving you enough room for both your watches and you can stick your watch charger in there and a sport band for your workouts. 
$110, available at hodinkee.com.