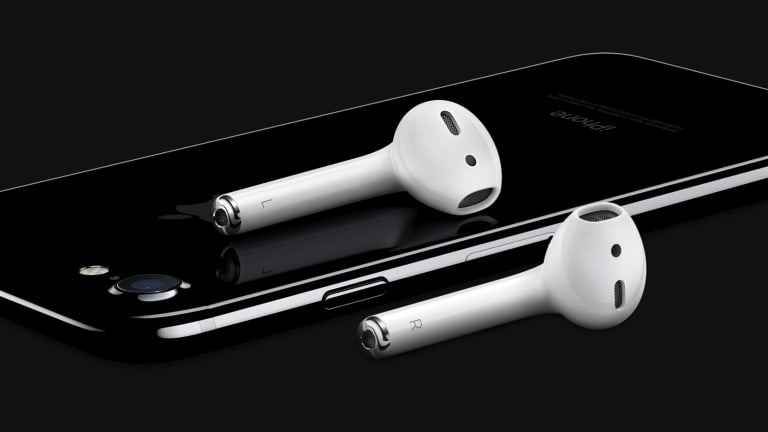 Apple announces the iPhone 7, Apple Watch Series 2, and AirPods
Apple fans, get your wallet ready.
Apple did not disappoint today as the company not only unveiled their next generation iPhone models, the company also revealed their next-gen Apple Watches and a sleek new wireless headphone. 
iPhone 7
First up, the iPhone. The iPhone 7 and 7 Plus don't look too different from the iPhone 6 and 6S and marks the first time the company hasn't introduced a totally new design in a non-S model. You'll quickly forget about that when you see what they've done with what's inside. It's finally waterproof, has the longest battery life of any iPhone, and features their most powerful processor yet, the A10. 
They've also updated the home button with their Taptic Engine technology, new stereo speakers (yes, they've removed the headphone jack), and an incredible new camera. Alongside a 7MP front camera, the new 12-megapixel rear camera has image stabilization on both the 7 and the 7 Plus and a large f/1.8 aperture for better photos in low-light environments.
Where it gets really impressive is the camera for the 7 Plus. Where the standard 7 has one 12-megapixel camera, the 7 Plus adds a second 12-megapixel telephoto camera that gives you 2x optical zoom and up to 10x digital zoom. Not only that, Apple will introduce a new feature later this year that gives you the kind of depth of field you can get on a DSLR. The iPhone (from $649) will be available for pre-order this Friday and will ship on September 16th in 32GB, 128GB, and 256GB sizes. Oh, and did we mention it comes in Jet Black??
Apple Watch Series 2
The Apple Watch is also getting a big update with a design that sticks to the original styling, but totally re-engineers the insides and delivers waterproof protection (50m), faster processors, a brighter display, and built-in GPS. 
They've also teamed up with Nike on a new watch designed for runners and features its own exclusive colorways, a Nike watch face, and special sport bands. Their collaboration with Hermes continues with new watch face designs and a new assortment of straps that includes an Hermes Orange Sports Band. 
The Edition line will see the addition of a new ceramic model with an all-white finish and has construction that is 4x stronger than stainless steel and is incredibly resistant to scraches. The new Apple Watches (from $369) will also be available for pre-order on September 9th and will hit stores on September 16th. 
Apple Airpods 
One of the most talked about rumors was whether or not Apple would actually ditch the headphone port. Well, they did and in its place are Apple's new EarPods, which connect to the Lightning port and their new wireless headphones, the AirPods. AirPods take the EarPods design one step further with a completely wireless headphone that uses their W1 chip that is said to offer higher quality sound than Bluetooth. AirPods ($159) will have 5 hours of battery life on a single charge and its dedicated charging case holds additional charges to give you a full day of battery life. 
More info at apple.com