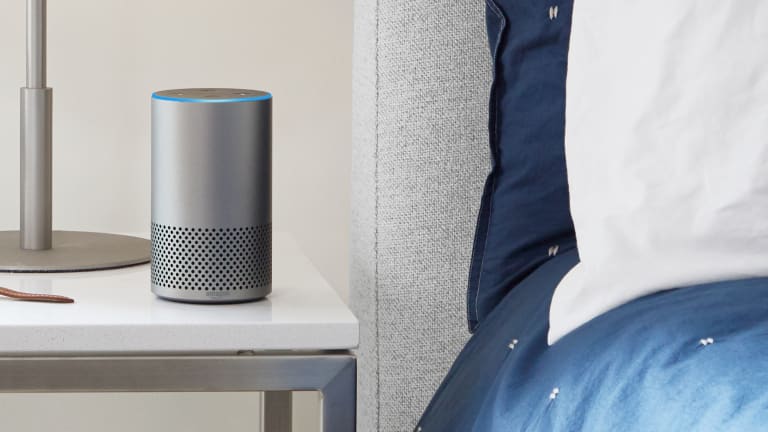 Amazon announces new updates to its Echo and Fire TV lines
The devices get better sound and compatibility with smart home devices.
Amazon had a lot to announce today as the company introduced the next generation of Echo devices and a new version of the Fire TV. The Echo line introduces two new devices, an all-new Echo ($99) that gets more compact and has an updated speaker architecture with a dedicated tweeter, a 2.5" down-firing woofer, and Dolby audio processing. 
For those with smart home devices, the company is launching Echo Plus ($149), which can easily link to all your devices by just saying, "Alexa, discover my devices." It also gets 360-degree omni-directional audio and both devices can now take and receive phone calls with an optional Echo Connect accessory that uses your landline or VoIP. 
Echo Spot
Echo Spot ($129) takes the small form factor of the Echo Dot and adds a screen and camera that lets you view the weather, video clips, take video calls, and much more. It's got a built-in 2W speaker that works all your favorite music streaming services and of course, it's got full Alexa integration. It also can work with your smart home devices to do things like turning on the lights, viewing camera feeds, or control the temperature. 
The new Fire TV 
Amazon's new Fire TV ($69) is their most compact 4K streamer yet and comes packed with HDR support, 60 fps, and Dolby Atmos right out of the box. The new Fire TV supports just about every streaming service out there and features a 1.5Ghz quad-core processor, dual-band 802.11ac Wi-Fi, 2GB of RAM, and 8GB of storage. It can also be paired with any of your Echo devices to control your Fire TV from anywhere in the house.