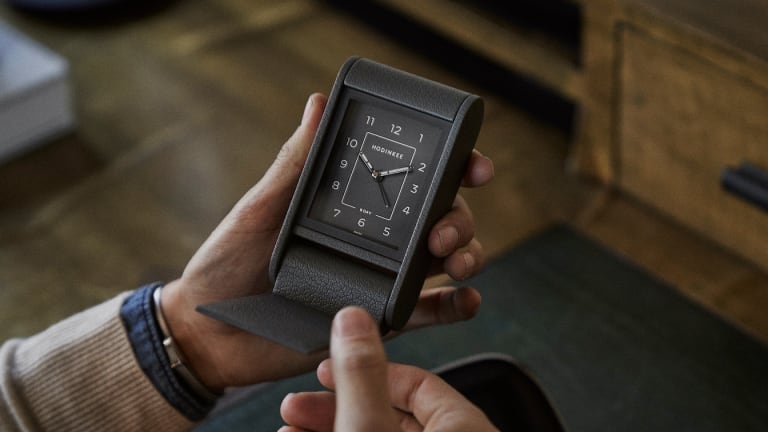 Hodinkee's latest limited edition combines a love for watchmaking and design
Their new Eight-Day Travel Clock is powered by a vintage Pontifa movement.
Hodinkee is doing something a bit different with its new limited edition. First off, this is a full-on original Hodinkee design and it's not a watch. Inspired by the travel clocks used in the 20s and 30s, Hodinkee is releasing an Eight-Day Travel Clock, a stylish, mechanically-wound, mechanical clock with an eight-day power reserve and alarm function. 
Wrapped in goat leather finished in Hodinkee's signature grey, the clock itself is constructed out of PVD-coated steel and inside is a vintage movement from Pontifa. Known for their eight-day travel alarm clocks, Pontifa's movements are highly coveted and Hodinkee enlisted the help of a clock and complication specialist to assist in the construction of the clocks. 
It also features a dial with Jonathan Hoefler's Decimal typeface, a font inspired by the renowned designer's love for vintage timepieces. Limited to 96 pieces, each clock is handcrafted and comes with a numbered certificate and a handmade shell cordovan carrying case. 
$5,900, hodinkee.com