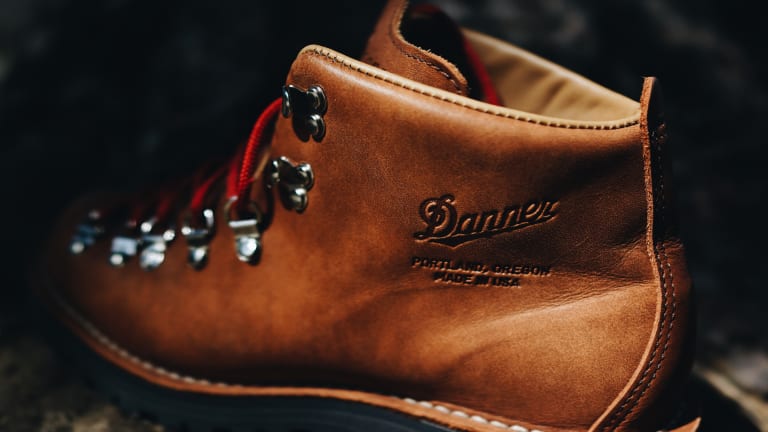 Oregon Proud | Danner's Portland Select Collection
The bootmaker debuts its new line of ultra-premium boots.

Anyone who knows their boots is definitely familiar with Danner. Started in 1932 by founder Charles Danner, the company built boots to meet the demands of loggers who had to tackle the tough terrain of the Pacific Northwest. This caused Danner to use only the best materials and craftsmen to build boots that not only withstood the elements, but were also built to last. 
That commitment to quality still stands today as the company debuts its new Portland Select Collection, which continues the brand's legacy of well-crafted, high-quality boots. Every single pair is made in the USA at their Portland, Oregon factory and are every bit as luxurious and rugged as you can imagine. 
Boots like the Mountain Light Cascade Clovis (top) are built to the same specs as the original designs with full-grain, one-piece leather uppers, waterproof Gore-Tex liners, and stitchdown construction that allows for a long-lasting boot that can be sent back to Danner's Portland HQ to be recrafted with a new sole. The boots come in a variety of finishes, with styles like the aformentioned Cascade Clovis with its tan upper or the deep and chocolately brown of the Mountain Light above. 
Tip: They might not look like it, but Danner's Mountain Light boots are also great for travel. The tongue features a unique design that opens wide so they're easier to get in and out of.
If stealth is your thing, the Mountain Light Black is perfect for those tactical snow missions. Just ask Daniel Craig, who stepped into a pair for last year's Bond flick, Spectre. Alongside the Mountain Light, the company is also releasing the Danner Light (below), which combines the classic styling of the Mountain Light and updates it with panels of rugged 1000 Denier nylon that protects the boot from abrasion and also enhances breathability. 
Tip: Danner isn't kidding around when they say their boots are built to last. You can count on the boots for years of use and when they need a little (or major) refresh, Danner offers a comprehensive recrafting service for most of their boots for things like stitch repair, resoleing, hardware replacement, and much much more. 
See the entire Portland Select Collection at danner.com