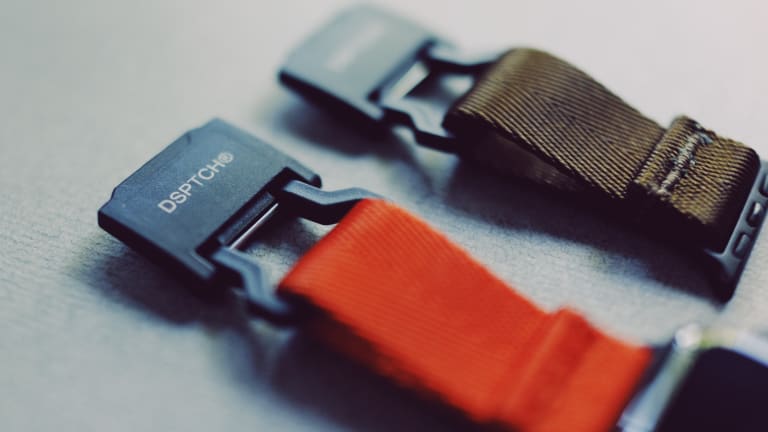 Upgrade | Our favorite straps for the Apple Watch Series 7
Apple isn't the only game in town when it comes to stylish straps.
The Apple Watch may have evolved over the years but one thing hasn't changed: its easy-to-use interchangeable watch strap system. Released last month, the new Series 7 underwent some slight changes in its size and case design but its band system has again gone unchanged to support the endless sea of strap options on the market. Whether you have a new Series 7 or just want to change up the look of your previous generation watch, we've assembled some of our favorite options this year to change up the look of Apple's best-selling wearable. 
DSPTCH Fidlock Watch Strap
The DSPTCH Fidlock Watch Strap combines heavy-duty herringbone webbing with a quick-release magnetic latch system. This makes it incredibly convenient to instantly remove and wear the watch and you can also purchase individual colors for a two-tone look.  
$36, dsptch.com
Shinola Stainless Steel Bracelet 
Apple's own Link Bracelet is a solid option but Shinola's got a bracelet of their own if you want to add a classic touch to your watch. A perfect companion for the polished steel Apple Watch, the bracelet adds a more traditional look is compatible with the 38/40/41mm case sizes.  
$255, shinola.com
Nomad Sport Band
Nomad's Sport Band gets updated with new colors like Marine Blue (above), Ash Green, and Dune. The FKM fluoroelastomer rubber straps are designed with lightweight durability in mind and interior ventilation channels make it a perfect fitness companion. 
$59, nomadgoods.com
Bellroy Watch Strap
Bellroy's Watch Strap brings a unique material construction with a smooth leather exterior that adds the sweat resistance of a textured and flexible polymer underneath. 
$69, bellroy.com
Erika's MN Strap
Erika's Originals patented MN Strap quickly became a favorite of watch enthusiasts for the versatility and comfort of its woven elastic nylon webbing. The popular strap has also been made available for the Apple Watch with silver or black lug adapters to match your case. 
€90 (approx. $102), erikasoriginals.com