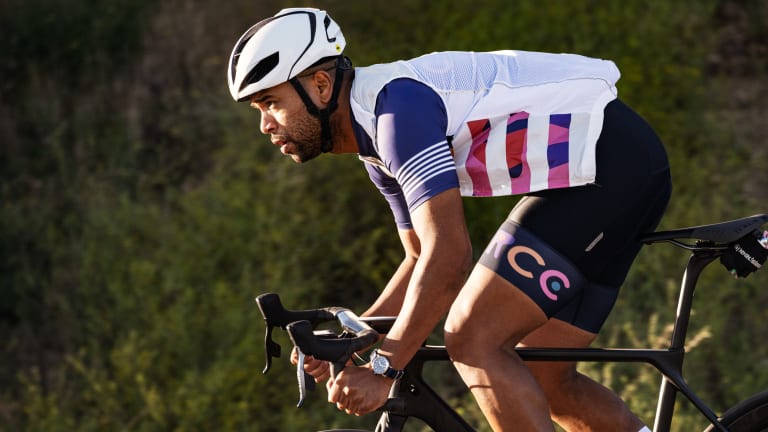 Rapha and artist Geoff McFetridge launch an exclusive RCC collection
The artist's colorful signature style inspired an essential cycling kit.
Known for his bright colors and geometric forms, artist Geoff McFetridge brings his work to a new line of cycling pieces for the member-only Rapha Cycling Club. Inspired by the world of cycling culture, McFetridge describes his colorful graphics for the collection: 
"The body conforms to the machine, the machine is the bicycle and is unmoving so the contortions and shapes we take to conform to the machine are pretty cool." Inspired by this notion, Geoff created a print representing small characters initially resembling cyclists, yet without their bikes. "Then I removed their bodies because I wanted to speak to the separation of body and mind. So it's like there's the machine, there's your body and there's your mind. There's those connections between those things. We use our bodies to access our minds; and our mind controls our body. As a cyclist, I think you understand how powerful the mind is. You don't get fitter necessarily, you just train your mind."
The collection is comprised of a Midnight Jersey, Pro Team Bib Shorts, Pro Team Lightweight Gilet, Pro Team Sleeveless Base Layer, Cap, Musette, and socks. 
George McFetridge for RCC is available now.