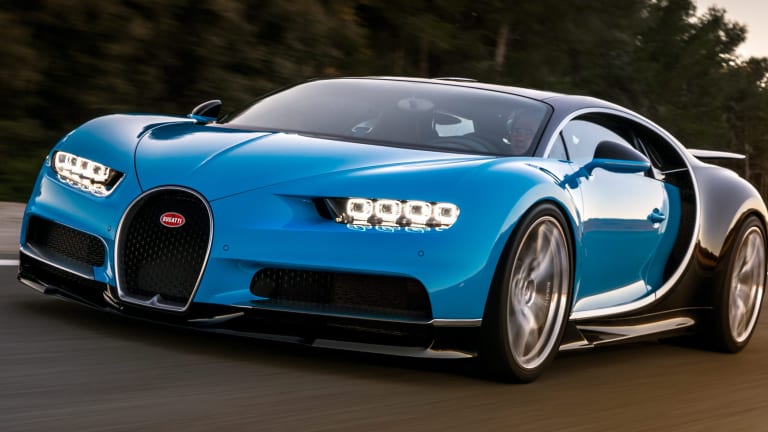 Here it is in all its glory, the 1500-hp Bugatti Chiron
260-mph of Hypercar insanity.
What could Bugatti ever replace the Veyron with? Well, it's here and it's as wild as you could imagine. Say hello to the Bugatti Chiron, the iconic company's new hypercar featuring a completely redesigned W16 that produces...wait for it...1,500 hp! Speed? All that horsepower will slingshot you from 0-62 in 2.5 seconds and a top speed (in road use) of 260 mph. 
They're able to put down those numbers with two-stage turbocharging, dual titanium exhausts, two jumbo-sized main catalytic converters, and the highest performance clutch found on a car today. Other performance specs include an active chassis, LMP1-grade monocoque carbon-fiber construction, and intelligent cooling system, and much much more. 
On the inside, a "C" shaped light strip wraps around and illuminates the interior for which there are a wide variety of leather and Alcantara options available. High res displays line the dash and sound is provided by Accuton, who have created a custom audio system that features a one-carat diamond membrane in each of the tweeters for the clearest sound possible. 
Pricing for the Chiron is set for 2.4 million Euros and will be limited to 500 cars, of which one-third is already solid. The Chiron is set to hit showrooms later this Fall.