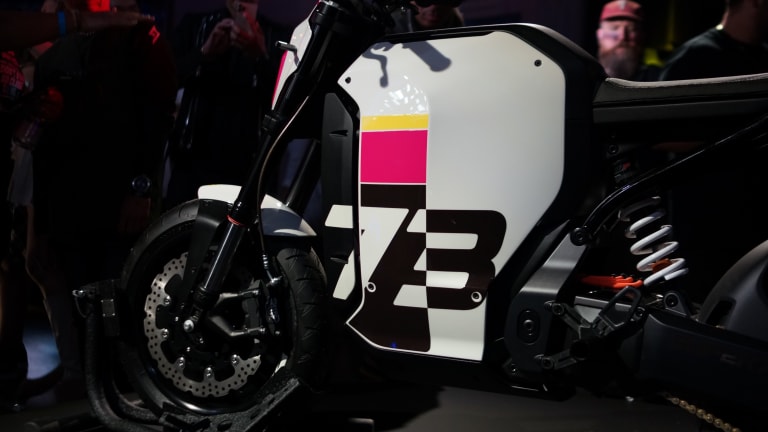 Super73 unveils a lightweight electric motorcycle and its 2022 model range
The new C1X is lightweight, street-legal electric motorcycle that can hit speeds of up to 75 mph.
Super73 unveiled its 2022 model range this week, bringing some updates to its popular lineup of e-bikes, a new entry-level model, and even a youth-focused range to bring the whole family along for the ride. The biggest news of the event was a preview of the C1X Concept, an all-new model that brings the company's ease of use to a lightweight, electric motorcycle. Much more powerful than a traditional Super73 e-bike, the C1X is a street-legal concept that will be capable of speeds of over 75 mph but in a more compact footprint that has a 31" seat height for easy maneuverability. 
The bike will ride on 15" wheels and has a 51" wheelbase that's complemented by a mass-centralized chassis/battery setup that helps to enhance the bike's overall agility. The company is aiming for a range of about 100 miles and it will have a fast-charging system that can get the bike's battery life from 0-80% in less than an hour. While its designed to be more approachable than a full-sized bike, it is a motorcycle and will require a motorcycle license, registration, and insurance. 
Alongside the C1X Concept, the company introduced an all-new entry-level Z Miami ($2,195 model. The Z Miami builds on ideas of the original Z1 and features the lightest construction in the lineup with an aluminum frame and improved ergonomics for easy maneuverability. It also features a removable battery, an enhanced motor, a pedal-assist option, Bluetooth connectivity for compatibility with the Super73 phone app, and it delivers over 30 miles of range at 20mph in its standard configuration. 
Last but not least, the company is adding a youth model to the fold with the introduction of a Super73 Youth Series ($995) that shrinks the package into the perfect size for kids from 4 to 8 years old. The bike has a long, moto-style saddle to accommodate various heights and it comes standard with platforms that can be swapped with pegs as the child becomes more comfortable with the bike. It also features a twist-grip throttle, retro-style gum wall tires with MegaHex treads, and adjustable ride modes. 
The C1X is available now for pre-order and is set to reach customers at the end of 2023 while the entry-level Super73-Miami is available now. The Super73 Youth Series is also available for pre-order and will arrive just in time for the holidays. 
---