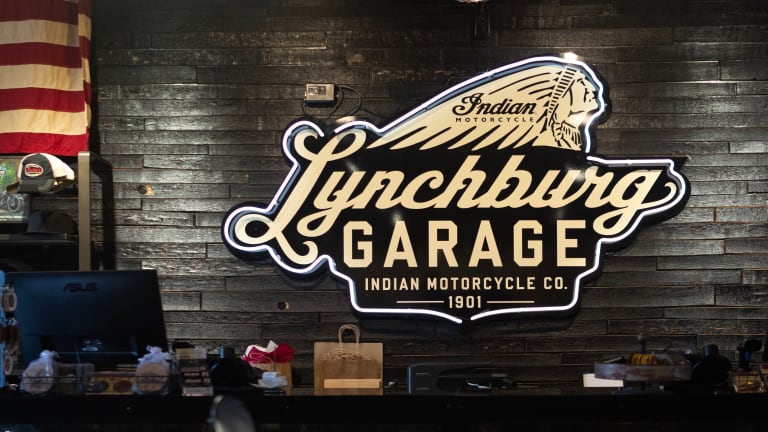 Indian Motorcycle opens the Lynchburg Garage
The new destination store opens in the home of America's most famous whiskey.
If you were to judge Lynchburg on population statistics alone⁠—a population that numbers in the thousands⁠—you might imagine that this idyllic slice of Tennessee countryside is just another pretty town you pass on the way to Nashville. Look into the hills and through trees and you'll see that there is much more than meets the eye. Lynchburg is home to America's best-selling whiskey and the country's first registered distillery, Jack Daniel's. Several years ago, the distiller found a common bond with Indian Motorcycle and since 2016, the two brands have launched limited-edition bikes every year with each model selling out within hours. Building on this partnership, Indian decided to bring something pretty special to town to take their ongoing collaboration even further. 
This week, Indian opened the doors to the Lynchburg Garage, a new pit stop for both motorcycle enthusiasts and tourists, who want a taste of the Indian Motorcycle lifestyle. Located just right down the street from the Jack Daniel's distillery, the new destination store takes over the brand's former visitor's center, which has been fully overhauled into a one-of-a-kind space that will be host to a full assortment of Indian merchandise.
As you can probably already tell, Lynchburg Garage is not your average retail space. You'll find everything from helmets to apparel as well as products exclusive to the store and co-branded merchandise from Indian and Jack Daniel's. The retail space is also joined by a hospitality area where you can kick back, relax and grab a refreshment, view a map of the best motorcycle routes in the state, or learn more about the brand. And what would an Indian store be without some bikes? This September, Lynchburg Garage will begin to offer rentals from the 2020 model lineup so you can truly get the full 360-degree Indian Motorcycle experience. 
Lynchburg Garage is now open at 10 Mechanic St. in Lynchburg, Tennessee.