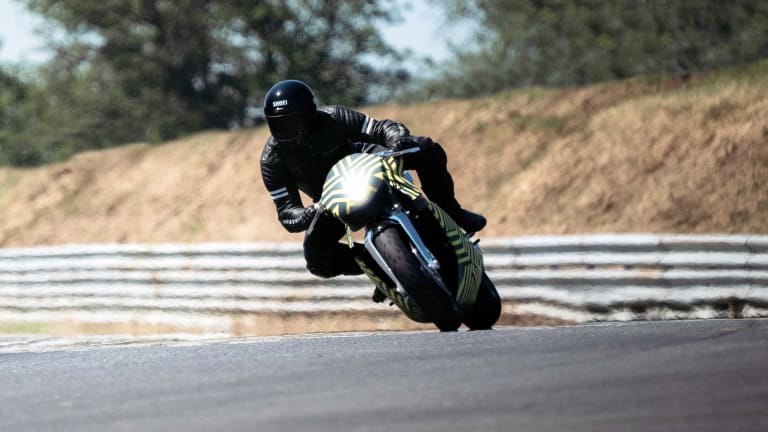 Aston Martin and Brough Superior offer up a new look at the AMB 001 motorcycle
Testing is currently underway and deliveries are on target for the end of this year.
Aston Martin and Brough Superior have been putting their upcoming motorcycle through the wringer with the bike undergoing a barrage of tests at Pau-Arnos in France. Limited to 100 bikes, the race-ready AMB 001 is being tested to ensure the driving dynamics, chassis geometry, and ergonomics are just right and getting it right is paramount as it wears two of the most prestigious badges in automotive and motorcycle history. 
Brough Superior CEO Thierry Henriette describes one of the most striking features of the AMB 001: "One of the key design features of the AMB 001 is an aluminium fin that runs along the full length of a carbon fibre tank, passing under the saddle and out onto the rear. The body holding the fin and supporting the saddle is one of the areas where we called on the unique knowledge of Mecano ID, who joined the project to apply specialist aerospace-quality carbon fibre skills to the exclusive AMB 001."
Powered by a turbocharged 180-hp engine, the AMB 001 is set to go into production this fall at the Brough Superior factory in Toulouse, France.
€108,000 (approx. $122,000), astonmartin.com