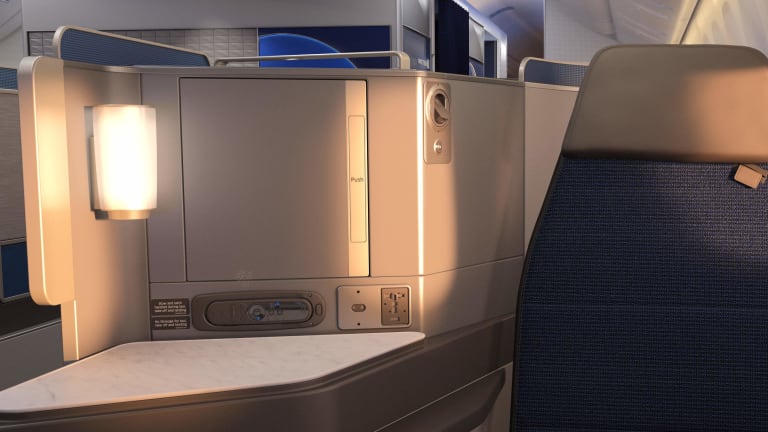 United unveils its new Polaris Business Class
United's new sleep-focused cabin hopes to keep business travelers well rested on long haul journeys.
United wants to keep business travelers well rested during those long international routes with a newly revamped business class cabin that they're calling Polaris. Debuting this December on their 777-300ER aircrafts, the new seats are exclusive to United and feature a 1-2-1 setup with direct access to the aisle and a 180-degree lie-flat bed that gives you up to 6 feet and 6 inches of bed space. 
Each forward-facing pod will have a "Do not Disturb" sign, mood lighting, adjustable lumbar support, 16-inch entertainment screens, and privacy dividers for those sitting in the center aisle. 
Sleep was a huge focus for the new revamp with custom luxury bedding provided by Saks Fifth Avenue, which includes day blankets, duvets, large and small pillows, and mattress cushions. Pajamas will be available upon request for flights that are longer than 12 hours and you can even ask for a gel-cooled pillow. You've also got a ergonomically-designed eye shades and a lavender pillow mist inside the amenity kit from Soho House & Co.'s Cowshed Spa. 
Food will be regionally-inspired with dishes created in collaboration with The Trotter Project and Chicago-based restaurants, Urbanbelly, bellyQ and Belly Shack. The debut of Polaris will also coincide with their new Polaris Lounge at Chicago's O'Hare International Airport and other cities such as LA, San Francisco, Tokyo, and London will debut new lounges in 2017.