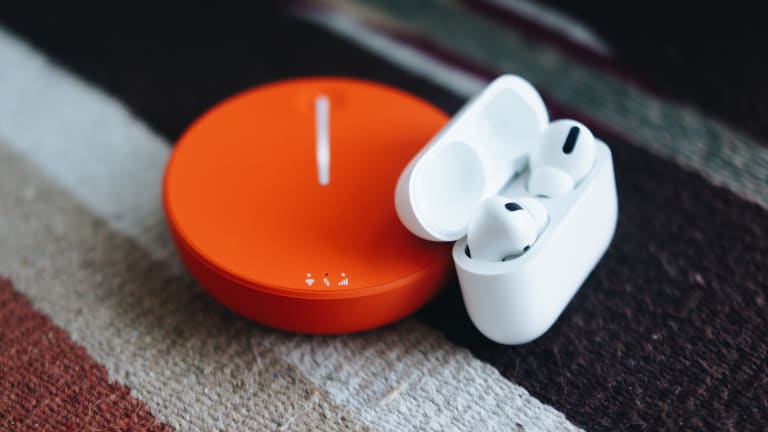 Travel Selects | Our favorite travel essentials this month
Slimmer power adapters, Tile's smallest tracker, international WiFi, and more.
We're always on the lookout for travel essentials of all sorts and for the first edition of our Travel Selects series we've focused on a collection of products that will help keep everything streamlined. From slimmer chargers to a WiFi hotspot that keeps you connected around the world, these items will help you start your 2020 travel plans off right. 
Apple AirPods Pro
The AirPods Pro has been a runaway success for Apple and this latest version is a no brainer for travel. Unlike the standard AirPods, the new model has a noise-cancelling feature and a transparency mode that lets you hear everything as if you weren't wearing the AirPods at all. A full charge will get you about 4.5 hours of playback and while that won't cover a long-distance flight, you probably should give your ears a rest while the buds quickly charge in their case.
$250, amazon.com
Corpus Naturals Travel Deodorants 
One of our favorite deodorant brands this year has been the luxurious scents from Corpus Naturals. The brand's deodorants are naturally derived and vegan and each of the six scents come in a 1.2oz size that is perfect for travel. 
$28 (for 3), corpusnaturals.com
Skyroam Solis Lite
Skyroam's new Solis Lite packs a WiFi hotspot into a compact device that fits into your pocket. The hotspot lets you stay connected to the internet all throughout the world with fast 4G LTE connectivity and with more than 18 hours of battery life, you'll be able to stay online all day. Best part of all, there are no contracts and unlimited data plans cost just $9 a day or $99 a month. 
$119, skyroam.com
Tile
Tile's latest collection of trackers are their most compact yet with designs like the new Sticker (above) that can be attached to just about anything and offers three years of battery life and 150 feet of range. There's also a new credit card-sized "Slim" model that can easily slip into a wallet or passport case to keep a virtual eye on all your goods. 
From $39, thetileapp.com
Anker PowerPort Atom III Slim Chargers
Anker is switching from silicon to gallium nitride in some of their charging products and this has allowed for slimmer and more compact designs for their PowerPort lineup. Perfect for anything that has a USB-C port, the PowerPort Atom III Slim comes in a 30W model with one port and a 65W model with a 45W USB-C port and three USB-A ports. 
From $34, amazon.com
Sigma fp
Sigma has created the smallest and lightest full-frame camera body on the market with the new fp. The mirrorless camera features a 24.6MP sensor, compatibility with the L-mount lens system, UHD 4K/24, 25 & 30 fps support, and 12-bit Cinema DNG support.
$1,899, adorama.com
retaW Porta Fragrance
The fragrance experts at retaW have created a line of portable fragrance capsules in some of their popular scents. Available in scents like Evelyn, Natural Mystic, and Barney, each of the capsules are filled with a cream that is good enough for a day of use. 
$30, havenshop.com