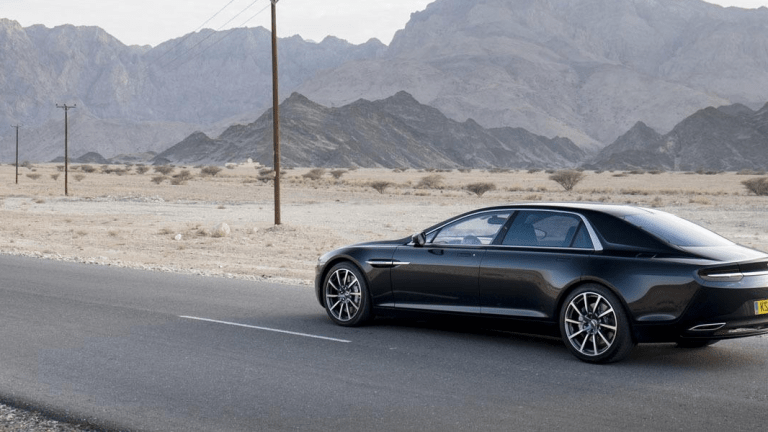 Looking Back | Your Top 20 of 2014
We take a look back at your favorite posts of 2014.
We're pressing rewind and looking back at your favorite, most read posts for 2014. As expected there were a lot of cars that caught your eyes and everyday essentials like watches, and technical apparel and footwear. Here, in no particular order, your favorite posts of 2014: 
The ultra-exclusive Aston Martin Lagonda has officially revealed its face and just like the previous generations of the 70s and 80s it keeps the sharp and long lines of the originals.
Exclusivity is the keyword here with the Lagonda line as the line will only be available in the Middle East and nowhere else. No word yet on whether we'll see Aston's signature V12 under the hood or the highly anticipated AMG powerplants that are waiting to make it into future cars. 
You've seen them all over the cool guy blogs, Instagrams, and countless Tumblrs. If you couldn't already tell by that teeny little picture up there, we're talking about the Land Rover Defender. The big and boxy monster continues to be in large demand, but if you asked us which one we'd pick, it would have to be Jonathan Ward's latest piece of handiwork, the Icon Defender NAS 110.
We love the Defender 90 as much as the next guy, but with all that extra room and its apocalyptic assault car styling, it definitely ticks all the boxes on our checklist. This specific car is a 110 from 1993 that has seen its fair share of transcontinental adventures.
As you would expect, there is an endless array of custom-engineered details and components that help this 110 earn its Icon badge. Under the hood is a 6.2L LS3 GM Erod motor that puts out 430-hp and 424 lb-ft of torque. That's coupled with a GM Supermatic Transmission and various other mechanical upgrades that include a custom suspension from Twisted and Bilstein, Twisted modified Axles, Alcon disc brakes, and more.
Inside, you'll find a beast of dashboard with a fully CAD designed dash that is made from laser cut, ribbed steel. It also features an the Icon steering wheel, custom Icon CNC'd alloy control knobs, CNC'd vents, Alcantara throughout, doors and seating wrapped in American Bison hide, and a generous use of Dynamat sound deadener to help keep the cockpit comfortable and quiet.
Seiko updates its Astron design with a new model inspired by our own big blue marble in the universe with the Stratosphere. Seiko created a domed sapphire crystal that takes 10 hours to finish and polish and is inspired by the curvature of the Earth. If you don't know already know about the Astron's killer app, it features a GPS-powered movement that automatically adjusts the watch to 39 timezones across the globe with just the push of a button. $2,500-$2,600, Arizona Fine Time
Nike updates the Windrunner for the warmer months with a new version for their upcoming tech pack release, the Windrunner Hyperfuse. The jacket features bonded ripstop to make it lightweight and is properly ventilated for breathability. The ripstop fabric also makes it extra durable and because it's thin and lightweight it's great for packing away for travel. $180, Nike
Nitecore's "Tiny Monster" flashlight collection is known for their incredibly powerful yet compact flashlights and their newest model continues that tradition with what essentially is Zeus's lightning bolt in the palm of your hand. The new Tiny Monster TM06 puts out 3,800 lumens making this the most compact flashlight in its category.
Using four CREE XM-L2 U2 LEDs, the flashlight's beam can reach up to 334 meters and can also go into a lower power mode that produces a 3 lumen light. The TM06 also features a two stage side switch, integrated power indicator, strobe function, and toughened mineral glass with anti-reflective coating. The barrel is made from aerospace-grade aluminum with a HAIII mil-spec hard anodized coating and is waterproof to up to two meters. Nitecore
Next season Oakley will be releasing its first frameless goggle, the Flight Deck. Oakley is claiming the largest field of vision with a jumbo-sized spherical lens that's easy to swap in and out and the brand's proven optics for low distortion, optical quality, and minimal fogging. Oakley
DSPTCH's Gym/Work Bag ($184) is a perfect bag for the hard working fitness freaks out there. Alongside room for your tablet and laptop, the bag has a ventilated shoe compartment, moisture-resistant lining, and a hidden security pocket in the floor of the bag. 
Definitely one of the most aggressive Bamford releases yet, the English watch customizer presents its newest addition, the Predator. The all-black Predator is based on Rolex's beefiest watch and most heavy duty watch, 44mm the Sea Dweller. Bamford Watch Department
4K televisions just became a bit more attainable. Vizio's new P-Series is bringing 4K televisions to the market for just $1,000. Yes, you will soon be able to purchase a 50" TV with 4K resolution for a grand all the way up to a 70-incher for a very very reasonable $2,600. As for features, the sets tout 64 Active LED Zones, a 120 fps High Velocity Mode, 24/48 fps for movies, 802.11ac WiFi, MIMO, and Vizio's suite of of Internet Apps. Starting from $1000, Vizio
After wowing everyone with the S-Class Concept Coupe, Merc's big grand tourer has revealed its production form and it looks like the former CL will definitely be stealing some attention away from Aston and Bentley. Scheduled to hit dealerships this fall, the new S-Class Coupe will launch stateside with an all-wheel-drive S550 model that will boast a 4.7L V8 biturbo that will produce 449 hp and 516 lb-ft of torque. As with all new S-Classes, the car will have all the latest toys including full-LED headlamps, an eletrchromatic "Magic Sky" panoramic roof, full-color heads up display, widescreen TFT dashboard, and much much more. Mercedes
Originally launched 30 years ago, ACG (All Conditions Gear) is back in big way under supervision of Acronym founder and all around technical outerwear expert, Errolson Hugh. This time around the brand is officially reborn as NikeLab ACG with a focus on mobility and weather protection in urban environments.
Built around Nike's proprietary Tech Fleece, Nike Dri-FIT Wool and Nike Flyknit technologies, the materials are brought together in full line of apparel, bags, and of course, sneakers. The collection will be available on December 18th at NikeLab.com and NikeLab 21 Mercer NYC, NikeLab DSM NYC, Niketown New York, NikeLab 1948 LDN, NikeLab DSM LDN, NikeLab P75 Paris, NikeLab LNZ1 Milan and NikeLab DSM Ginza in Tokyo.
We're getting a new Star Wars and to be honest, this 88 second trailer is already looking better than the prequel trillogy:

"Star Wars: The Force Awakens, opens in theaters December 18, 2015. Star Wars: The Force Awakens is directed by J.J. Abrams from a screenplay by Lawrence Kasdan & Abrams, and features a cast including actors John Boyega, Daisy Ridley, Adam Driver, Oscar Isaac, Andy Serkis, Academy Award winner Lupita Nyong'o, Gwendoline Christie, Crystal Clarke, Pip Andersen, Domhnall Gleeson, and Max von Sydow. They will join the original stars of the saga, Harrison Ford, Carrie Fisher, Mark Hamill, Anthony Daniels, Peter Mayhew, and Kenny Baker. The film is being produced by Kathleen Kennedy, J.J. Abrams, and Bryan Burk, and John Williams returns as the composer. Star Wars: The Force Awakens is Episode VII in the Star Wars Saga"
One of the signature elements of every Bond film, as you know, is his car and today at the reveal of the next chapter in the James Bond series, Spectre, the Aston Martin revealed a very special car for 007, the DB10. Marking a 50 year relationship with the James Bond series, the DB10 will be a very special car as it will be produced exclusively for the movie.
Built in-house by Aston's design and engineering teams, the car will be limited to just 10 production cars. Though the cars won't see much usage outside of that exclusive circle, it offers a good look at what to expect from Aston in the coming years. Aston Martin
After four years of development, outdoor outfitter Arc'teryx will be releasing an all new collection of footwear, a mid-cut boot and low-cut technical shoe for hiking.
Just like their outerwear, the shoes are all about high-tech and high-performance materials and construction. The designs and materials were built in-house and Arc'teryx even developed custom machinery due to the advanced construction of the footwear. The top-of-the-line styles feature a modular system that combines a Gore-Tex liner with a separate water-resistant shell and the liner can be swapped for an insulated one when the temperature starts to fall. Unfortunately it'll be a little while before you can get your hands on a pair as the line won't hit shelves until Spring of 2015. $220-$320, Arc'teryx 
You don't want to wreck those limited edition Air Max's in the snow this winter do you? Nike's here to help with their new Sneakerboot Collection that takes a few of your favorite styles and gives them a winter-ready upgrade.
First up, the ever-popular Roshe Run (above) maintains its signature comfort profile and updates it with a heat-retaining, water-resistant upper, and a synthetic fur lining. The classic Air Max 90 and Air Max 1 get reinterpreted into heavy duty boot/sneaker hybrids and the Lunar Force 1 is as bold as the shoe it's based on with its chunky boot profile and Lunarlon cushioning. Nike
With a name like Thor, this jacket better be one mighty piece of winter-battling outerwear. Norse Projects has taken their Thor Raincoat and gave it a cold weather overhaul with the combination of luxurious Loro Piana wool and Primaloft insulation.
Loro Piana sources their wool from the finest breeds of merino sheep to create their naturally technical fabrics and treats it with a lamination process that involves placing a thin hydrophobic membrane to the underside of the material and on top of it is a DWR treatment to keep water away. That wind and water-resistant structure coupled with the warmth of Primaloft insulation will surely place this high atop your list if you're on the hunt for an elegant yet high-performance winter coat.  $875, Norse Projects
Toyota is about to release one of the most exciting cars to the market and no, we're not talking about the FT-1 Concept. Before you get too excited, this one will be exclusive to our friends in Japan. Yes, they are getting a commemorative re-release of the Land Cruise Model 70 in both "Van" and Pick-up form.
Originally launched in 1984, the special edition Model 70 will be making its way back to Toyota showrooms for its 30th anniversary and will only be on sale for a year. Both styles will be powered by a 4.0L V6 and will have part-time 4WD and a 5-speed manual transmission. While most of the design stays true to the original, the anniversary model receives a few modern tweaks including a revised grille, a new instrument panel, and modern headlights with integrated turn indicator.¥3,500,000-¥3,600,000, Toyota

What happens when Jaguar designer Ian Callum gets his hands on a Mark II? You get one stunning restoration and a Jaguar that by far is cooler than the current lineup it inspires. Callum called upon Classic Motor Cars Limited, a vintage Jaguar specialist who helped the designer create one of the finest examples of the Mark II out there.
18 months in development, the car swaps out the original engine for a modified 4.3L XK engine that's mated to a 5-speed manual gearbox. It also gets an independent rear suspension and upgraded set of front brakes. The car is also 30mm lower and is equipped with 17" split rim wheels. Inside, the car gets a number of modern appointments including a Clarion entertainment system with studio-grade cabling and an interior swathed in red leather. Classic Motor Cars
Van Cleef & Arpels has taken the inhabitants of the Milky Way and created one of the most beautiful pieces of wristwear to ever grace the pages of Acquire, the Complication Poétique Midnight Planétarium. A incredible feat of art and watch engineering, the piece has an intricate dial that displays the position of six planets which are each crafted out of semi-precious stones that surround an 18kt rose gold sun. The movement, created by Christiaan van der Klaauw who specialize in astronomical complications, is an automatic caliber and has hour and month indication around the center dial. Van Cleef & Arpels 
If you spent a good amount of time inside any arcade in the 90s, odds are you've dumped a decent chunk of change inside a NEOGEO-powered cabinet. Those machines offered a unique experience in that the cabinets offered the chance to play multiple titles of which some are still cult-favorites to this day.
Analogue, creator of stunning renditions of classic video game systems, is creating a limited edition run of NEOGEO arcade systems that will be handcrafted here in the USA from 100% ash with an ebony finish. The NEO will boast all the features of the standard Big Red cabinet and is compatible with the original cartridges and memory cards and do this with no emulation.
The system itself will feature a two-player classic Seimitsu joystick with the original NEOGEO button colors and has been updated for compatibility with HDTVs as well as CRTs if you're a purist and want the traditional setup. $1,499, Analogue