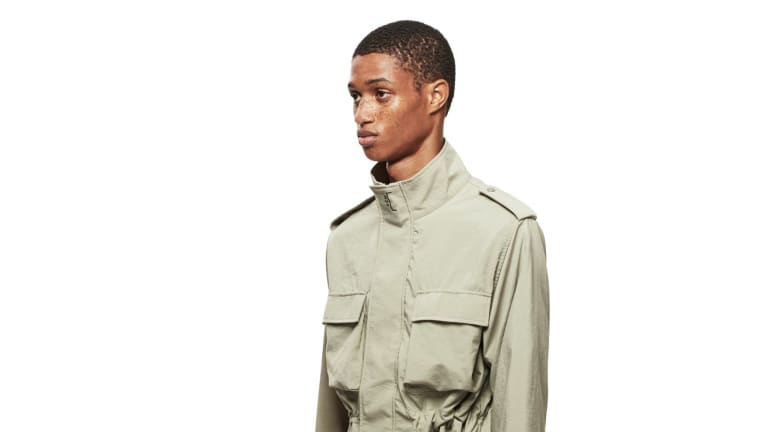 Support Black-owned Businesses
Black Lives Matter. Black Businesses Matter.
Ending racism isn't going to happen overnight. We all still need to do our part and whether that's protesting, voting, or donating, the fight to eliminate racial injustice and inequality can only end if we come together to put a stop to it. One of the biggest ways you can help from here on out is to support black businesses. We've compiled a list of brands and retailers you can support and if you're reading this and have a brand or know of a brand that belongs on this list, please shoot us an email at info@acquiremag.com so we can add it. 
For additional resources on what you can do to help Black Lives Matter, visit ally.wiki
A-COLD-WALL
Award-winning designer Samuel Ross has made a big impact on the fashion world with his futuristic, fashion-forward streetwear collection. The designer also recently announced a £25,000 grant to support black-owned businesses in categories such as tech, urban planning, design and engineering, professional, scientific, and technical services, and more. Interested businesses can submit their requests to foundation@a-cold-wall.com.
Albert 1941
Started in 2008 by Gabriel Akinosho, London-based Albert 1941 takes it back to an era of perfectly cut suits and classic menswear. The collection features everything from suits to knitwear to shirting and outerwear. 
A Ma Maniére
With six retail locations spread across Washington D.C., Atlanta, GA, and Houston, TX, A Ma Maniére brings together a carefully curated mix of luxury streetwear brands and footwear. 
Armando Cabral 
Taking what he learned through travel and his career as a model, Armando Cabral applied a love for fashion and design to a luxurious footwear collection "Inspired by timeless design and easy elegance." 
Bevel
Acquired by Proctor and Gamble in 2019, founder Tristan Walker continues to grow Bevel into a nationwide brand and this year the brad has fully expanded into a full collection of skincare, body, and haircare products. 
Bole Road Textiles
New Yorker Hana Getachew's Bole Road Textiles takes its inspiration from the colorful Ethiopian fabrics that decorated her home as a child. After a career in interior design, Hana started the company to combines the beauty of Ethiopian textiles, blending it with her eye for a modern global aesthetic. 
Burke Avenue
Jamaican-born Craig Whitely spent over a decade being the "Master Barber" for many of Hollywood's leading men and has now applied that experience to an award-winning collection of skincare products. 
City Workshop
Roger and Josefina Stevens left their corporate jobs to start City Workshop in 2015. Located in Maplewood, NJ, the store focuses on well-crafted menswear and accessories from brands such as 3sixteen, Alex Mill, Eastlogue, Tellason, Schott, and more. 
Goodee
Dexter and Byron Peart, formerly of Want les Essentiels, created Goodee, a global marketplace that focuses on a selection of brands that aim to make meaningful contributions to social and environmental efforts. 
G+CO Apparel 
G+CO Apparel focuses on two things we all can get behind and that's affordably perfecting your wardrobe with all the necessary accessories but also supporting communities through their own scholarship fund for first-generation college students.
Saint Alfred
Saint Alfred in Chicago, IL has been one of the best resources for high-end streetwear and footwear in the city for over 15 years. Carrying brands like Acronym, CAV EMPT, Wacko Maria, and WTAPS, the store also has its own in-house label of apparel and accessories. 
Scotch Porter
Leaving his corporate job to open a barbershop in his neighborhood, Calvin Quallis turned the business into a full-blown men's grooming line with an extensive collection of products for beard, hair, and face care. 
Southern Gents
Southern Gents is all about keeping you looking your best at a fair price. From suits to dress shoes to outerwear and accessories, the brand has everything you need to channel the unrivaled style of a proper southern gentleman. 
Uncle Nearest
The inspiration behind Uncle Nearest is based on one of the most important figures in the history of whiskey, Nathan "Nearest" Green. Green was the first known African American master distiller and taught Jack Daniels (yes, that Jack Daniels) how to make Tennessee Whiskey. Uncle Nearest celebrates that history today with an award-winning collection of whiskeys that are available worldwide. 
Union
You can't visit LA's famous Fairfax Ave. without popping into one of the street's most famous stores, Union. The store's offering blends a mix of fashion and function and carefully selected array of brands that you won't see anywhere else. 
Waraire 
Known for his impeccable suits and equally impeccable style, designer Waraire Boswell's collection combines timeless tailoring with a fashion-forward edge. And did we mention they've got some of the most stylish masks out there? 
*Any income made from this post from affiliate revenue will be donated to the NAACP Legal and Defense Educational Fund.