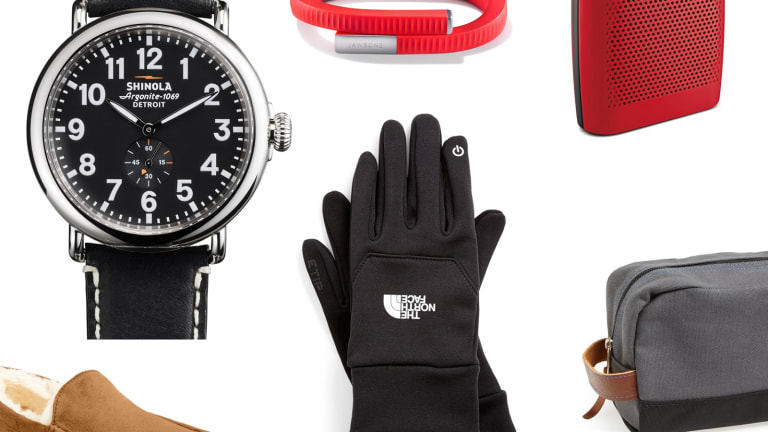 The 11th Hour: Last Minute Gift Ideas | Brought to you by Nordstrom

It's no fun trying to brave the massive crowds on Christmas Eve in an attempt to get a handle on your last minute shopping. Nordstrom has put together a smart selection of last minute gifts that are sure to impress. From wireless speakers to watches and touchscreen-compatible winter gloves, they've got all the bases covered. You've still got till Monday, Dec 21st 11:59 EST to get free shipping and delivery by Christmas Eve. 
UGG Ascot Suede Slippers
Ugg Suede Slipppers are made with a rich suede with a rubber traction sole. The soft, cozy lining is made from genuine shearling or plush UGGpure, a textile made entirely from wool but shaped to feel and wear like genuine shearling.
Todd Snyder and Champion's City Gym Collection
Inspired by archival Champion pieces and vintage photos from the New York Athletic Club, the City Gym collection blends Todd Snyder's modern aesthetic with classic American tailoring.
BOSE's Portable Soundlink Speaker
Bose's Soundlink portable speaker delivers clear, full-range sound you might not expect from a compact speaker.
North Face TKA 100 Pullover
The North Face's TKA 100 is a  lightweight, quick-drying pullover is designed to help you regulate your body temperature while you enjoy the great outdoors.
Shinola Runwell
The first Shinola watch series ever made in Detroit offers expert craftsmanship and classic style in a round, handcrafted timepiece.
North Face
The North Face's Etip gloves feature silicone-gripped, four-way stretch and are designed with a metallic conductive panel on the pointer finger, allowing you to continue using your touchscreen phone or media device without freezing your hands off in the chilly winter air.
Jawbone UP24
Jawbone's UP24 Fitness Band is a sleek, lightweight wristband makes keeping track of your health and fitness goals easy and hassle-free.
Owen and Fred
Owen and Fred's tough 18-oz. canvas Travel Kit ensures hard-wearing durability in an on-point travel kit featuring an encouraging message on the inside to help you get going in the morning.