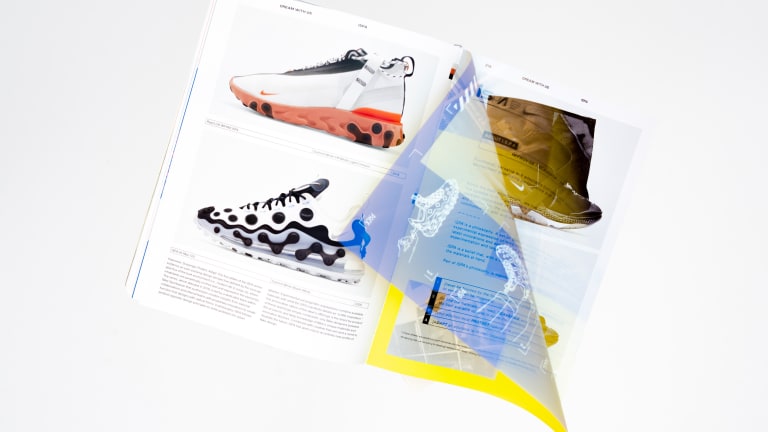 Nike's new book takes a look at the brand's design process and its future in sustainability
An exploration of the design philosophy that serves as the backbone of one of the most iconic brands in the world.
Nike is one of those rare unicorns that has had a lasting and ongoing impact on design, sport, and fashion. Author Sam Grawe explores the history of Nike's envelope-pushing design in the brand's new book,"Nike: Better is Temporary." 
"The book's title is drawn from a conversation with Nike's Chief Design Officer, John Hoke, who explains, "I fundamentally believe that the central thesis of Nike is 'The best is temporary at best.'"
Placing industry-defining innovations and globally-recognized products alongside previously unpublished designs, prototypes, insider stories and more, the immersive visual survey reveals how Nike's foundational dedication to "listening to the voice of the athlete" fuels its dogged pursuit of progress. Author Sam Grawe combines exclusive access to Nike's World Headquarters with insights from Nike creatives and executives to delve deeply into an ethos-driven design formula that is as ephemeral as it is influential.
The book opens with an introductory section on Breaking2, then lays out in five thematic chapters Nike's focus on performance, brand expression, collaboration, inclusive design and sustainability.
Chapter 1, "The Voice of The Athlete," springboards from the introduction into Nike's aforementioned ethos. It clarifies how close collaborations with elite athletes continually evolve the company's research, innovation and design, resulting in better products for professional and everyday athletes alike.
Chapter 2, "Design That Speaks," dissects a selection of iconic Nike ad campaigns and brand designs before examining how the company's daring communications method increasingly informs its consumer experiences and community initiatives. The audit conclusively classifies storytelling and authentic human connections as central to Nike's success equation.
Chapter 3, "Dream With Us," explores Nike's commitment to collaboration. It illuminates how the company has cultivated relationships across athletic and creative fields to accelerate innovation and design. From its partnerships with legendary athletes to its relationships with renowned creatives, Nike showcases how the intersection of disciplines invariably precipitates new solutions — a reality underscored by the success of the company's own intra-department collaborations, which often generate its most progressive creations.
Chapter 4, "Opening the Aperture," highlights Nike's inclusion efforts, which have accelerated in the past decade as the company continuously strives to fulfill its mission to "Bring Innovation and Inspiration to Every Athlete in the World." By adapting hyper-specific insights from athletes of diverse abilities, cultures, genders and more, Nike not only improves the performance of athletes everywhere, it also demonstrates its essential belief that "If you have a body, you're an athlete."
The book's final chapter, "Playground Earth," delves into sustainability at Nike — arguably the most important and ambitious goal on the company's present and future strategy. It details Nike's efforts to protect the future of sport through waste reduction and decreased water and energy use. It also chronicles the company's ongoing attempts to reduce and remove harmful materials from its supply chain, and initiate closed-loop manufacturing processes — initiatives that have hastened breakthrough innovations, such as Nike Air technology, Flyknit, Flyleather, Nike Grind and (more recently) Space Hippie and Move to Zero products."
Available in a limited release this month with a full release to follow on January 25th, 2021. 
$89, phaidon.com