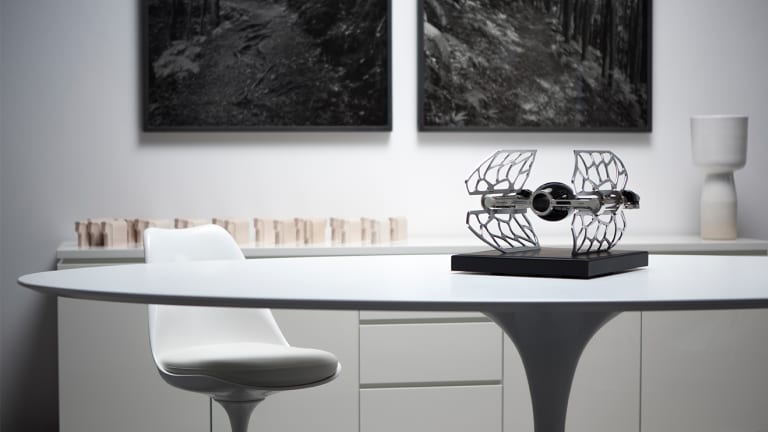 The MB&F Musicmachine 3
For the man who has everything.
With Star Wars on everyone's mind these days, MB&F could not have come at a better time with their new Musicmachine 3. Celebrating their tenth anniversary, the new Musicmachine is inspired by the Galactic Empire's standard issue starfighter and an icon of Sci-Fi spaceships, the Tie Fighter.
Split into three editions with three different styles that include a black lacquer, white uv-resistant lacquer, and a chrome anodized finish. Surrounded by metal lattice work, the "engine" brings together a sophisticated system of combs, winding keys, hand-finished cylinders, and a resonant amplifying base made from 350 year old resonance spruce, Nomex, and Kevlar. 
All those puzzle pieces fit together to create a music box with quite the playlist. The right cylinder of the Musicmachine can play the themes from Star Wars, Mission Impossible, and James Bond while the left cylinder can play themes from The Godfather, Merry Christmas, Mr. Lawrence, and The Persuaders. 
Read more about the Musicmachine 3 at MB&F