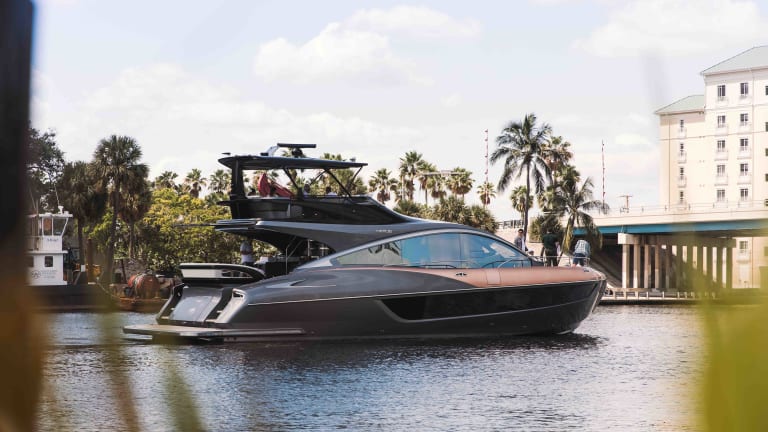 Lexus takes to the seas with its latest flagship
What it means to be a Lexus flagship takes on a dramatic new meaning this fall.
When you think of a top-of-the-line Lexus, an LS 500 or an LC 500 might come to mind, but this year both of those models will be unseated by something much, much bigger...and it won't have wheels. After spending the last several years driving the company to inject new excitement into Toyota's luxury marque, Chief Brand Officer Akio Toyoda's ambitious project to transform Lexus into a luxury lifestyle brand comes to fruition with the new Lexus LY 650. 
Developed in partnership with Marquis Yachts, the imposing 65-footer is unlike anything else in its class, translating the company's design language into what will surely become an iconic silhouette for the brand going forward. Wrapped in a two-tone finish, the yacht houses an ultra-luxurious living space designed in collaboration with Italian design firm Nuvolari Lenard, who dressed up the interior with bright and open spaces filled with various wood finishes, leather, and carefully finished stainless steel. 
Plenty of amenities and details are worth nothing, including the spacious staterooms that can sleep up to six people and right in the middle of the stairwell, which is cleverly decorated with steps that wear the Lexus "L", is a built-in Miele coffee maker and a dedicated wine fridge. The salon area contains captain seats and two sofas and as you head outside, a stairway that leads to the upper deck can be raised to reveal a stairway down to the crew quarters, which contains a kitchenette, bathroom, and bunk. 
Powering the boat are twin Volvo Penta IPS 1350/1200/1050 hp engines that are designed to deliver the perfect balance of performance and efficiency while materials like carbon fiber reinforced plastic and glass fiber-reinforced plastic help to create a rigid yet lightweight structure to enhance the stability of the LY when traveling at high speeds. Other details include LY-Link, a connectivity system that can allow the control of lighting, air-conditioning, and various other functions through a smartphone app and just like you would find in their cars, Mark Levinson will offer a surround sound system for a high-quality audio experience that was designed to replicate the sound profile of a concert hall inside the boat's salon.
And before you go brushing this off as some one-off project, Lexus will be the first automaker to have a yacht in full production. The company plans to build multiple LY 650s annually and the boat you see above is the first completed LY 650, which we rode around in through the intracoastal waterways of Boca Raton, Florida. 
Sales for the LY 650 launch this October. 
$3.7 million, lexus.com