Land Rover and Abecrombie & Kent launch "The Most Luxurious Road Trip on Earth"
How about a 21 day road trip enjoying the best hotels in the world, equipped with the ultimate Range Rover?
Land Rover and luxury travel company Abercrombie & Kent have quite the itinerary available for those who want to explore some of the best locales in the world on a 21 day road trip equipped with the ultimate Range Rover, the SVAutobiography. 
The trip starts in Europe where you embark on a drive from Nice to Monaco and from there that 550-hp V8 will power you through five continents and eight countries. You'll enjoy everything from overnighting in the Atacama Desert to having glacier picnic where you'll charter a helicopter to enjoy lunch in the Alps. Pricing for the trip will start at £100,000 for two people and can be customized to your own preference and schedule.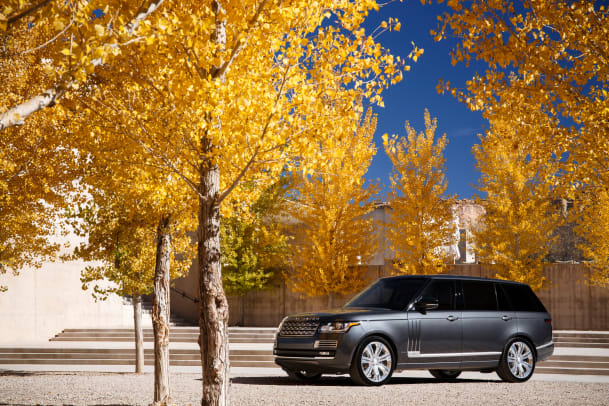 The Full Itinerary:
Day 1 - Nice to Monaco
Lunch at Joel Robuchon at the Metropole, Monaco
Overnight at Four Seasons Cap Ferrat
Day 2 - Hills of Provence
Personalised fragrance making class
Lunch at Chateau St Martin
Overnight at Four Seasons Cap Ferrat
Day 3 - Coastal drive to Portofino
3 hour drive to Portofino along the coastal highway
Overnight at Hotel Splendido, Portofino
Day 4 - Cinque Terre
Drive along the coast to the Cinque Terre
Lunch on the Italian Riviera
Overnight at Hotel Splendido, Portofino
Day 5 - Lake Comocruise
3 hour drive to Lake Como
Take a private sunset cruise over the lake to Bellagio
Overnight at Villa D'Este
Day 6 - Dolomite Mountains
5 hour drive through the Italian lakes into the Dolomite mountains
Overnight at San Lorenzo Mountain Lodge
Day 7 - Helicopter picnic
Fly up by Helicopter for a discreet picnic on a glacier
Snow shoeing and crevasse rappelling
Overnight at San Lorenzo Mountain Lodge
Day 8 - Fly toMarrakech
Transfer to Venice
Flight to Marrakech
Overnight at Royal Mansour
Day 9 - Ouarzazate Desert drive
Day drive into the arid desert around Ouarzazate
Lunch in a private desert camp
Overnight at Royal Mansour
Day 10 - Atlas Mountains
Day drive into the Atlas Mountains through Berber villages
Lunch at Richard Branson's hotel Kasbah Tamadot.
Overnight at Royal Mansour
Day 11 - Transfer to US
Flight to Las Vegas
Helicopter to Amangiri - Range Rover on standby for drive to hotel
Overnight at Amangiri
Day 12 - Monument Valley drive
Drive 2.5 hours to Monument Valley
Antelope Canyon - Hiking and Scrambling excursion
Overnight at Amangiri
Day 13 - Grand Canyon by helicopter
Helicopter to North rim of the Grand Canyon
Private dinner under the stars at a local Sandstone Butte
Overnight at Amangiri
Day 14 - Utah desert drive
Drive 4.5 hours though the Arizona/Utah desert
Breakfast in Zion National Park
Overnight Flight from Las Vegas
Day 15 - Atacama, Chile
Arrival day in the Atacama Desert
Overnight atAwasi
Day 16 - Alamo Observatory
Day drive to the Alamo Observatory
Private Lunch
Overnight at Awasi
Day 17 - Atacama desert drive
Day Drive into the Atacama Desert.
Overnight at Awasi
Day 18 - Transfer to Australia
Overnight flight to Sydney
Day 19 - Sydney Bridge climb
VIP Sydney Bridge climb experience and behind the scenes at Sydney Opera House
Overnight at Park Hyatt Sydney
Day 20 - Transfer to Tasmania
Fly to Tasmania
Drive 2 and a half hours through Tasmania on stunning roads
Overnight at Saffire
Day 21 - Boart trip to Wineglass Bay
Quad bike through the coastal heathland and forest
Boat trip to Wineglass Bay
Overnight at Saffire