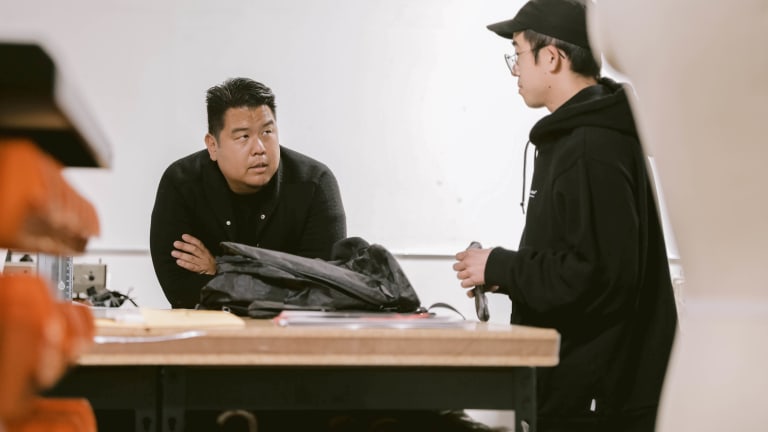 Still Made in USA | A chat with DSPTCH's Richard Liu
The company's founder talks to us about the challenges of running a small business and the next evolution of the brand.
DSPTCH has come quite a long way from its beginnings as a product line that consisted of camera straps and keychains that were made in founder Richard Liu's apartment back in 2010. Fast forward to 2021 and the company has built out a full lineup of bags and accessories that continue to have a growing and loyal customer base around the world. Over the past year, Liu has been quietly working on the next stage of the brand, building on its learnings over the past decade and applying that keen eye for function and fabrics into a new range of goods, the first of which will launch today. We recently sat down with Liu to talk about DSPTCH's next evolution, running a small business in 2021, and why 'Made in USA' continues to be so important to the brand.
Q: Before we get into it, let's talk about 2020. Businesses face challenges every day but this was uncharted territory. How did you navigate being what you call a "mom-and-pop" shop during a pandemic and where do you stand today?
2020 felt very much like a game of cat-and-mouse. In a sense, this made being a small independent business an advantage because we were better suited to make changes on the fly. There were constant challenges that came up requiring good decision making. At times, we had to wait and be patient and there were times where we had to go right away.
Where we stand now is a more independent and stable business. There were certain parts of our supply chain that were set up for growth and expansion that we had to pull back in favor of lowering our exposure. This obviously hurts our profitability but protects the business and our employees from further uncertainty.
Q: You started as an e-commerce company that dabbled with the idea of retail somewhat early on and then you opened full-blown shops in San Francisco, Tokyo, and New York. Retail is obviously in a delicate situation this year, do you still feel good about brick and mortar as the world slowly starts to get back to normal?
For our business, I do feel optimistic about retail and still hold onto my personal belief in brick and mortar retail being an important part of the consumer experience. This isn't true for all businesses and there are many that unfortunately won't be able to come back. We were in a bit of a hybrid situation in the sense that we had the benefit of being able to ship our products but also dealt with the heavy impact of travel and work being put on hold, our two primary use cases. This made it a bit more tenable for us to sustain a retail location and we hope to return back to a place where they are a significant part of our customers' interaction with the company.
Q: Made in USA has been pretty important to you since day one and for many brands who still produce here, it's become this increasingly rare stamp of approval. Why do you continue to build much of your product line stateside when most of your competition is outsourcing their production?
There were definitely points in time where we considered this option, especially taking in the fact that the vast majority of our industry manufactures overseas. The pandemic actually pushed us further down the Made in USA path in the sense that we had to expand our in-house production capabilities while our manufacturing contractors were also dealing with their own personnel amidst the shutdowns. So while it started as a convenience and preference, it has grown into a necessity especially (with, edit*) how we see the company moving forward and how we plan to be around for another 10 years.
Q: So you've built out this pretty capable manufacturing operation, which sounds like a significant investment. Are those resources fully dedicated to DSPTCH? Have you ever toyed with the idea of sharing that output with other companies?
Yes, we are just now slowly growing the team and at the same time taking on some clients for private label manufacturing. We've done it in the past on a strictly word-of-mouth basis but I think it could eventually become a significant stream for the business. We are still in the proof of concept phase (which admittedly could last for an indeterminable amount of time) with some other brands that we know personally but definitely on our mind how it could become more open to other clients down the road.
Q: It sounds like the team has gained quite a bit of experience with fabrics over the years and it seems like you're pretty particular about the materials chosen in everything you make. With all the production and manufacturing that's happening in-house, it's looking more and more like fabrics are going to play a larger role going forward?
Absolutely. For luggage-grade textiles, there aren't many options before you have to consider going full custom with an overseas partner. We've been fortunate to have a strong relationship with DSM, who produces DYNEEMA fabric and has been a great partner that allows us to offer a more technical option for our line. We began with a stronger tie to military fabrics and hardware but started offering a more advanced material option beginning with our RND line. This has grown to the point where we are going to be moving many of those options to our mainline offering and believe it can coexist with our traditional military-inspired approach to products.
Q: You've never been one to aggressively chase trends, but one trend that is unavoidable is sustainability. With any good bag design, longevity should be an inherent feature. Is that part of the thinking in your approach, what are the considerations being made?
We are still in a wait-and-see approach on how to create a stronger sustainability story with our product line. The biggest part of it right now is encouraging a buy less but better approach for our customers, a departure from the disposable attitude that many have with their bags and luggage. This is why we repair our bags for free and try to constantly reinforce possible areas of wear so that you don't have to throw out an entire bag with one broken component. On top of that, we are trying to source more domestically to reduce the carbon footprint of transportation. There are some interesting things happening in recycled plastics and yarns being used in luggage grade materials, which we are actively testing and monitoring for new innovation.
Q: The photography world has always been a core element of the brand's story and the product line has expanded well outside of photography since that first camera strap in 2010. What's next for the brand as more and more people start to pick up their bags again, will bags even continue to be a big part of that story?
That's a good question and one that I don't yet have a good answer to. If I've learned anything from this past year, it's great to have a plan but to not hesitate to crumple it up and throw it out if necessary. Thinking back, there were certainly times that I wanted to maneuver the line into one path or another. We are going to continue to read the landscape and see where our perspective can meet opportunity. I think we are going to surprise our customers with some of the new products that we have planned to come out this coming year and am excited to see the response.
Thank you again for the time and opportunity. Wishing you and the rest of the Acquire family the best.
---
For more on DSPTCH, visit dsptch.com