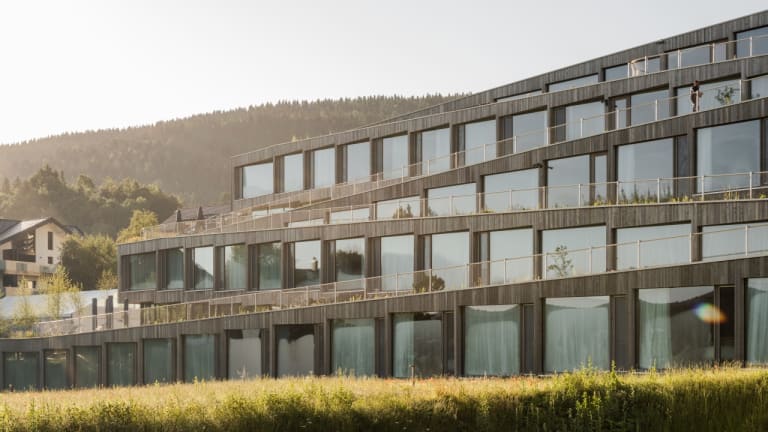 Audemars Piguet goes into the hotel business with the opening of the Hôtel des Horlogers
The former Hôtel de France has been reimagined by BIG and CCHE.
As if making some of the world's most sought-after watches wasn't enough, Audemars Piguet has entered the hotel business with the opening of the Hôtel des Horlogers. Formerly the Hôtel de France, which originally opened in 1857, the company has reimagined the property with the help of the Bjarke Ingels Groupe and Swiss architecture firm, CCHE. Designed to naturally complement its surroundings, the zigzagging slabs of the new hotel are surrounded by the legendary Vallée de Joux, known both for its picturesque landscapes and its rich history in the world of watchmaking. 
Located just steps away from AP's headquarters, the 50-room property was designed to offer the best views possible no matter where you're staying. The interiors were designed in collaboration with AUM, who expanded upon the sustainable focus of the hotel with wood and stone materials that have been locally sourced. The hotel also hosts a bar and two restaurants, led by French three-Michelin-starred Chef, Emmanuel Renaut. And you can't stay at the hotel without a little bit of the watch world in your itinerary. Several watch-themed packages are available, which offer visits to the Jaeger-LeCoultre Manufacture or a guided tour of The Musée Atelier Audemars Piguet. 
Hôtel des Horlogers
Route de France 8
1348 Vallée de Joux
Switzerland    
---