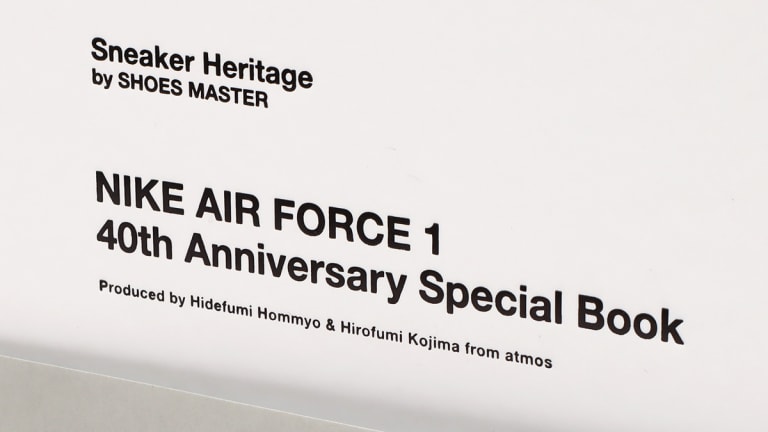 Atmos' Hidefumi Hommyo and Hirofumi Kojima celebrate 40 years of the Air Force 1
The renowned retailer takes a closer look at forty of the most coveted AF1s for its 40th birthday.
The most famous shoe to wear the Swoosh is celebrating the big 4-0 this year and to celebrate Atmos' Hidefumi Hommyo and Hirofumi Kojima have released a book to pay tribute to the iconic sneaker. The book breaks down 40 of the most coveted Air Force 1 models, from limited editions to styles that never made it to production. 
"Sneaker Heritage by SHOES MASTER". The aim is to feature masterpieces that have particularly outstanding universal value in the history of sneakers, compile their archives into one volume, and pass them on to future generations. This first book features the Nike Air Force 1 (AF1), which will celebrate its 40th anniversary in 2022.
Among the numerous variations of the successive AF1s, this book presents 40 models that are particularly worthy of being called masterpieces, existing valuable originals from 40 years ago, and masterpieces born from the Japanese project "CO.JP", which cannot be seen outside. In addition to introducing successive AF1s selected from various perspectives such as samples and not-for-sale items, interviews with AF1 enthusiasts such as Hiroshi Fujiwara, and the history of AF1 spelled out by writer Masayuki Ozawa.
Born as a high-performance basketball shoe that brings together the most advanced technology of the time, it supports the feet of top NBA and NCAA players, and later jumps out of the court and connects with various cultures such as art and music, sublimating into a street icon. AF1 that did. Through this book, I want you to feel its great history and charm again."
---
$60, atmosusa.com