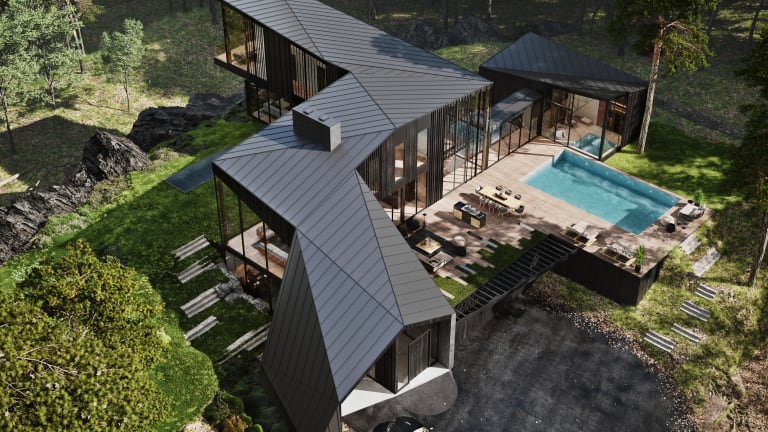 Aston Martin applies its design expertise to its first private residence
The Hudson Valley residence was designed with S3 Architecture.
The designers at Aston Martin have been quite busy in the last few years, working on everything from helicopters to motorcycles, on top of their famed vehicles. Today, the company has revealed its first residence, designed in partnership with S3 Architecture. Named Sylvan Rock, the home is located on a lush, 55-acre property in New York's Hudson Valley. Accessed via a scenic 2,000 ft driveway surrounded by trees and rock walls, the main residence reveals itself with its angular form that is designed to mimic the geological rock formations on the property. 
Wrapped in blackened cedar and glass, the 5,983 sq-ft main residence features four bedrooms, four bathrooms, two half baths, a three-car automotive gallery garage, a custom wine cellar wrapped in Aston's signature cross-hatched lattice design, a pool, and an 873 sq-ft pool house. The property also features multi-functional guest house "pods", a treehouse, and an agricultural garden. 
$7,700,000, sylvanrock.com