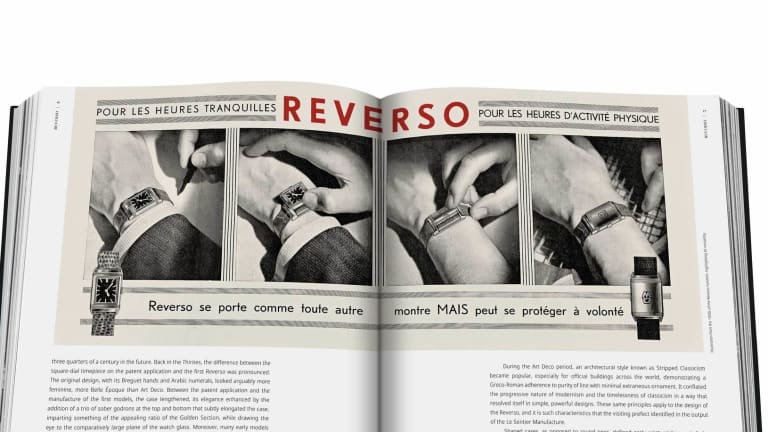 Jaeger-LeCoultre and Assouline cover 90 years of the Reverso in a new book
A deep look at an Art Deco masterpiece.
It's a watch that needs no introduction but it's also one that definitely deserves an in-depth documentation of its history that now spans a little over 90 years. The Reverso is getting the Assouline treatment with a large format coffee table book that details the history of the iconic watch, which still mesmerizes watch enthusiasts and to this day. 
"This richly illustrated volume traces the story of one of the world's most recognizable wristwatches through archive images and original photography, together with an evocative text by noted author, historian, journalist, and horological specialist Nicholas Foulkes.
Born in 1931, at the height of the Art Deco period, the Reverso was created in response to the challenge of designing a wristwatch that could withstand the rigours of polo matches. It captured the essence of the time – a period when the spirit of modernity changed everything, from social mores to architecture, music, sport and every field of design. Epitomizing this spirit with its sleek form and unique reversible case, the Reverso has remained an eternal expression of modernity for 90 years, continually reinventing itself while never compromising its identity. Its blank metal flip side, which began as a purely functional solution, became a canvas for creative expression, decorated with enamel, engravings or gemstones.
As well as tracing the history of the watch and its evolution over the past nine decades – with more than 50 calibres and several hundred dials – the book explores the social milieu and cultural changes that provided the backdrop to the creation of the Reverso and, later, its continued reinvention. It shares the stories of more than a dozen Reverso owners who have personalized their watches in deeply meaningful ways. And it also tells the fascinating story of Jaeger-LeCoultre's founders, their inventions that have had a profound impact on horological history, and the Maison's development as an integrated Manufacture with 180 skills brought together under one roof."
---
$195, assouline.com