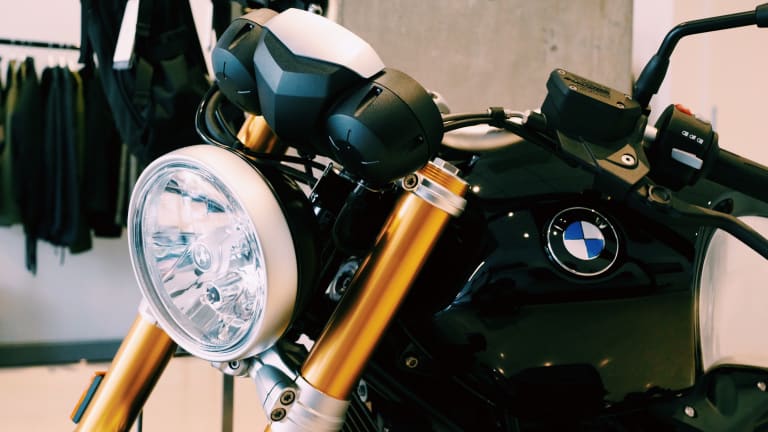 The Acquire Collection at DSPTCH SF
We're bringing some of our favorite products to DSPTCH's new store in San Francisco.
We're bringing some of our favorite product designs that we've covered on Acquire to DSPTCH's new store on 786 Valencia St. in San Francisco, CA. 
We've got everything from a BMW R nineT to a selection of watches from Autodromo, Seiko, and Weiss Watch Company. Take a look through a few of our highlights of the collection below to see what we're featuring and please come on through and say hello if you happen to be in the neighborhood.
Bowers and Wilkins T7
British hi-fi experts Bowers & Wilkins take on the Jamboxes of the world with their new entry into the Bluetooth speaker market, the T7. The first thing you'll notice about the T7 is the unique honeycomb design that surrounds the main speaker unit. That's not just for looks, that "Micro Matrix" reduces vibration and distortion to give you the best sound possible.
Inside the speaker unit is a set of twin bass radiators to allow for well-rounded lows and two 50mm drive units pump out big sound from its small footprint. You also get a high quality DACs and custom DSPs for crystal clear audio at high volumes and the rechargeable lithium ion battery will keep your music going for up to 18 hours.
Feit Bio-Trainer Mid
Feit's Bio Trainer 1 is one of our favorite and most impressive sneaker releases this year with a design that is cut from a single piece of leather. This time around they're giving the Bio trainer a fall update with a mid-top that gives the sneaker a boot-like aesthetic.
Construction is just like the original, an incredibly impressive piece of craftsmanship that is 100% handmade from leather or suede by a single master craftsman. On the back of the shoe is a heel counter made with a high-grade leather that is usually used in luxury dress shoes and the lightweight, biodegradeable sole is made from a natural latex rubber sourced from the milk of a rubber tree.
Baxter x BCX
If you missed out on Baxter and Base Camp X's original straight razor, the duo are back together again with a brand limited edition that is sure to quickly sell out and maybe even grab another award for them.
Their Cut-Throat Razor is derived from Base Camp's BCX axe handles and this year the handle is made from hand-shaped Appalachian Hickory wood that's sanded down to a smooth finish and then multiple coats are added to achieve a deep black stain that is also moisture-resistant. The blade is sourced from Hart Steel in the USA and uses a 6/8 Blue Steel blade that's exclusive to Baxter of California. Each blade comes in its own water-resistant olive canvas pouch. 
BELL BULLITT
Bell is taking it back to the '70s with their newest design, the Bullitt, a modern take on the classic full-face Bell Star helmet. Set for release in March 2014, the helmet arrives on the 60th Anniversary of the company and perfectly bridges classic Bell design and the modern helmet technology of today. The Bullitt features a low-profile fiber composite shell, a removable and washable anti-bacterial interior, 5 intake vents w/ 2 rear exhaust vent, 3D-cut cheek pads with speaker pockets, Magnefusion shield closure, and a perforated microsuede lining with leather trim.
Oakley LSA Boot
Originally designed for the Military, the Oakley LSA (Land, Sea, Air) just might be the ultimate go anywhere, do anything performance boot. Unlike conventional boots, the LSAs are ultra lightweight and have a streamlined, glove-like fit. As for construction, the boots feature Scotchguard treated pig suede, 1000 Denier Cordura throughout the boot, and a puncture proof sole (Terrain model). The boot also comes in a "Water" model (see bottom) that features drainage ports in the soles
Autodromo Prototipo
Autodromo reveals its latest watch, the '70s-inspired Prototipo. Definitely one of their best looking watches to date, the Prototipo gets its name from the Prototype race cars of the '60s and '70s and is a design worthy of its racing-inspired namesake. The chronographs feature Seiko Hybrid Quartz movements, tachymeter and pulsometer scales, and perforated leather straps. 
DSPTCH
786 Valencia St.
San Francisco, CA 94110

Mon-Sat: 12p-7p
Sun: 12p-5p