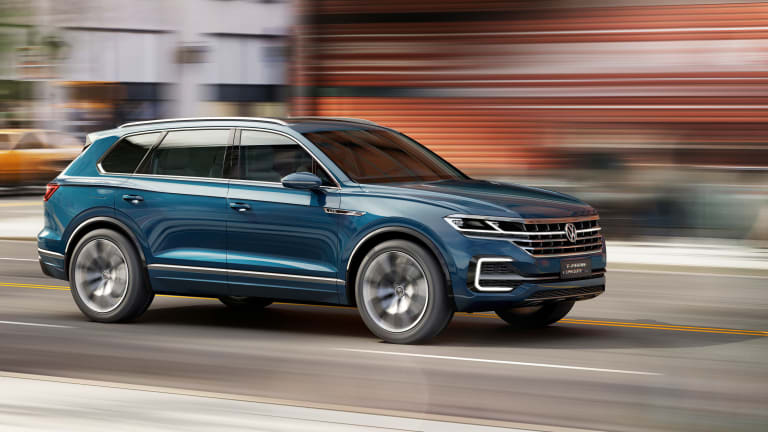 Volkswagen's newest SUV goes upmarket with the T-PRIME Concept GTE
VW takes on the luxury market with an premium SUV.
Positioned above the Touareg, the T-PRIME Concept GTE previews a full-size luxury SUV model with all-wheel-drive and a plug-in hybrid system. Performance is rated at 375 hp with a massive 516 lb-ft of torque and is capable of 31 miles of all-electric range. More specifically the system features a 2.0L, four-cylinder turbocharged gas engine combined with a 134 hp electric motor that gets the T-PRIME from 0-60 in 6 seconds flat and will reach a top speed of 139 mph. 
The front of the car is wrapped in a full-width chrome grille that is flanked by LED headlights that seamlessly integrate into the grille's design. At 199 inches long, VW places the SUV within striking distance of some of its larger rivals and makes full use of that size with a well-equipped interior that features a whole host of the latest in-car technology. The interior of the car ditches conventional knobs and switches and is operated via an array of touchscreens and gesture controls giving you easy and intuitive access to all your content, climate control features, and navigation functions.