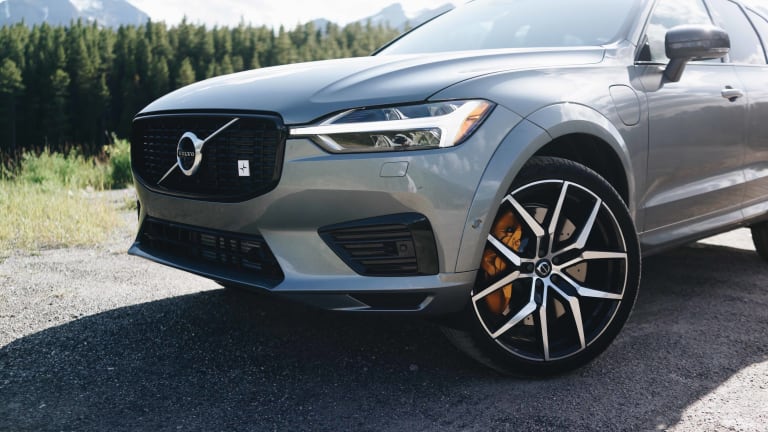 Volvo's XC60 Polestar Engineered takes a more refined approach to the performance SUV
The small SUV brings more power and elegant electrification.
Plenty of luxury automakers talk about refinement when describing their cars, but none of these companies executes those ideas as well as Volvo. The company's performance-focused Polestar Engineered line exercises much more restraint in comparison to product lines such as AMG and BMW M yet makes no compromises when it comes to performance while offering a perfectly balanced mix of luxury, comfort, practicality, and of course, safety. 
Sure, it's immediately evident that it's got a bit more going on than the standard trims that are available yet it does this in such a way with a level of style and restraint that very few can pull off. There are no excessive uses of aero and scoops but what you will find are little subtle yet bold details that indicate its Polestar pedigree. The most visible is the use of Polestar Gold, which can be found accenting elements such as the seat belts and Akebono brakes. Other details include high-gloss black elements, black chrome tailpipes, and 21" lightweight Y-Spoke alloy wheels.
Under the hood is a T8 Twin-Engine Plug-In Hybrid Electric motor that boasts 415 hp and 494 lb-ft of torque, which smoothly achieves a 0-60 time of 4.9 seconds. This power is matched with specially developed Akebono brakes comprised of six-piston calipers and ventilated 14.6" brake discs that are fitted to the front wheels. It's not just quick either, Volvo spent some time fine-tuning the overall performance with custom suspension tweaks from their fellow Swedes over at Öhlins and the perfect balance of optimized fuel efficiency and instant power with its gas and electric motor. A front strut bar has also been added to increase the rigidity of the chassis and just like the rest of the car this detail is beautifully designed with a white finish and a gold adjuster. 
The interior of the car is purposeful yet luxurious with smooth Nappa leather upholstery joined with intricately finished aluminum elements that feature textured surfaces and fun little details such as a Swedish flag that's seamlessly implemented into the metalwork (above). Of course, the interior is filled with a ton of technology and at the center of the infotainment system is their signature Sensus Connect Touchscreen with an easy-to-use four-tile user interface. You've also got Apple CarPlay and Android Auto at the ready and for their audio system, Bowers & Wilkins worked with the Gothenburg Symphony Orchestra to recreate the sound experience of the Gothenburg Concert hall using an 1,100 watt system of 15 speakers and an integrated air-ventilated subwoofer. 
It's a tightly woven package of design, performance, and practicality that offers something a bit different from a performance badge. There's nothing too excessive on display here, everything is where it is for a reason and Volvo has been very careful to remain competitive in a sophisticated and compelling way without trying too hard. If you care about good design and overall finesse, it's an option that's hard to ignore. The XC60 is the most popular Volvo in the world for good reason and their first Polestar model just adds another cherry on top to an already successful lineup. 
The 2020 XC60 Polestar Engineered is now available. 
From $70,495, volocars.com