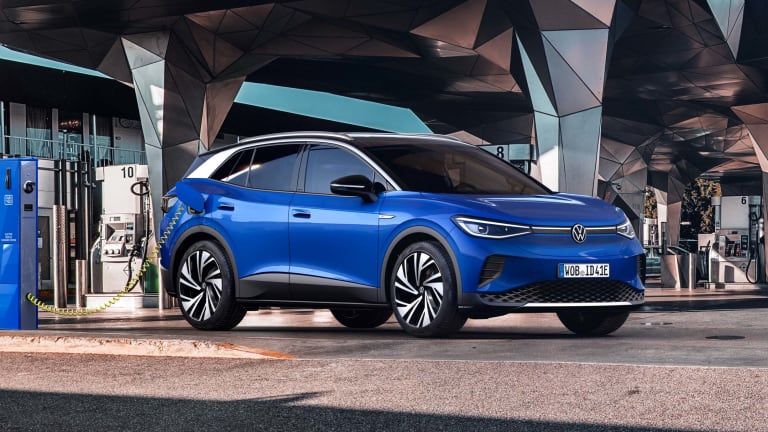 Volkswagen reveals the 2021 ID.4 electric SUV
Pricing starts at $39,995.
Volkswagen is making big moves into electrification and one of the most important models in that strategy is the upcoming ID.4 SUV. Revealed today, the ID.4 has been described by the company as having "the packaging of a Tiguan and the purpose of the Beetle. All the best things about VW in one package." On the performance front, the ID.4 is powered by an 82kWh battery with a rear-mounted AC permanent-magnet synchronous motor that produces 201 hp and 228 lb-ft of torque. 
This configuration has a range of 250 miles and it will be joined by a more powerful 302 hp model with all-wheel-drive later next year. An 11kW onboard charger gets the ID.4 to 33 miles with one hour of charging and a full charge takes seven and a half hours when plugged into a home charger or a Level 2 charger. When plugged into a DC fast-charging station with 125kW of power, a charge can reach 80% in a little more than half an hour. 
As for sizing, the ID.4 is considered a compact with a length that is over four inches shorter than the Tiguan yet manages to have a similarly sized cabin. The streamlined interior features a 5.3-inch ID.Cockpit digital dashboard, a multi-function steering wheel with touch-sensitive controls, a standard 10-inch infotainment display, a Hello ID voice assistant, and a feature called ID. Light that utilizes a light strip below the windshield that displays lighting effects that display charging status, whether or not the door is locked or unlocked, navigation assistance, and incoming phone calls. 
Pre-orders for the ID.4 are available now for $100 and it will be available in all 50 states in early 2021. 
$39,995 (before potential tax credit), vw.com