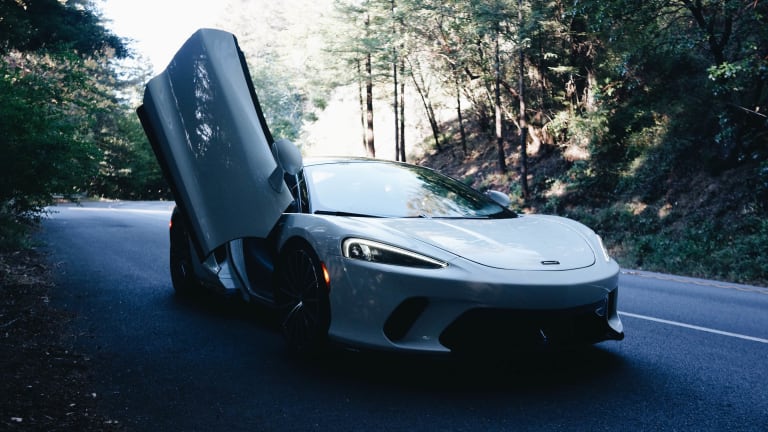 The Details | Exploring McLaren's most practical supercar, the GT
Who says you can't drive a supercar everyday?
The McLaren GT is definitely not your average grand tourer. It's got all the looks of a supercar while carefully finding a balance between performance and practicality. And while its performance is the stronger focus here, McLaren went to great lengths to ensure that this V8-powered continent crosser was not only fast but comfortable and easy to drive. With 612 hp at your feet, the GT can get from 0-62 in 3.2 seconds and can reach a top speed of 203 mph. It's more power than any one human will ever need but it all feels safe and stable and is always ready to go off the leash when you need it to. 
So how is it as an everyday driver? We took it for a spin and made note of all the little (and big) details that made the McLaren GT an incredibly pleasant place to be. From its softgrain leather that hugs your body to the higher ground clearance and the great visibility, it almost becomes easy to forget that you're driving a 200+ mph rocket. 
The Cabin
Supercars can be a claustrophobic place to be and there's none of that to be had in the GT's cabin. While it still has that cocoon-like feel, it all feels comfortable and considered. You feel that everything has a sense of purpose and that the space has been elegantly managed in such a way to give a feel of openness while still maintaining a driver-focused cockpit. 
The Steering Wheel
If you take a look at the McLaren steering wheel, you'll notice that the entire wheel is devoid of buttons. This goes against everything you see on modern cars with the popularity of multi-function steering wheels but there's something quite refreshing putting your hands on a wheel that is only focused on one thing: driving. Oh, and you won't miss any of those buttons when you feel the cold texture of the precision sculpted metal paddles on your fingertips. 
MSO Electrochromic Panoramic Roof
The MSO Electrochromic Panoramic Roof is one of the coolest options you can equip on a McLaren and it's available for the GT. It lets you instantly change the tint of the glass from dark to clear with just the touch of a button. There are five settings in total and at its darkest setting, you get full sun protection with a light transmission of just .6%. 
Storage
Storage isn't exactly a strong suit with most supercars but McLaren had to stay true to the grand touring nature of the GT with a dedicated luggage bay that can hold everything from overnight bags to golf clubs and there's even a fairly spacious 'frunk' for additional storage. And it can also be spec'd with a material the company calls SuperFabric, which is both scratch and water-resistant. They've even designed an exclusive line of luggage pieces to get the most of the rear storage space. 
Materials
McLaren goes heavy on special materials and that is immediately evident throughout the car. Whether it's the softgrain aniline leather-wrapped cabin, exposed carbon fiber, or chunks of knurled aluminum. Everything feels luxurious and technical and there's even a cashmere option, which is the first time the material has ever been used in a production car. 
---
The McLaren GT starts at $200,000, mclaren.com