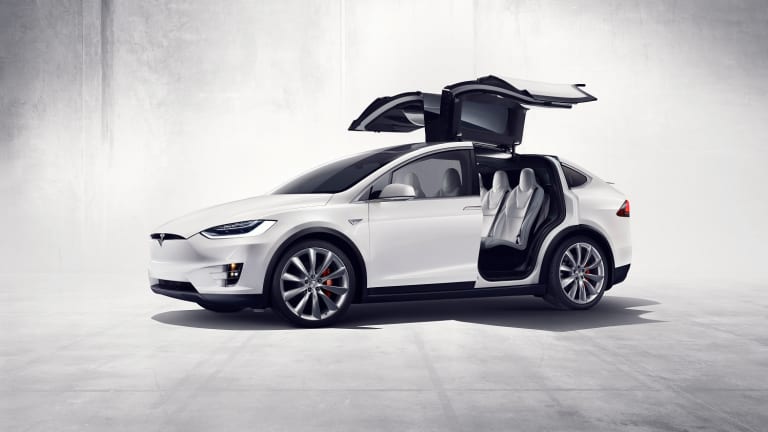 Tesla officially unveils (and delivers) the production Model X
The company finally delivers its first SUV.
Joining the Model S this year is Tesla's often-teased Model X, the company's first ever all-electric SUV. The car will hit the streets with all-wheel-drive and 250 miles of range and will be one of the quickest electric SUVs on the market. We're talking 0-60 times of 3.2 seconds (with the optional package), fast enough to keep up with some of the most powerful sports cars out there.
As you would expect, the Model X is chock full of bleeding edge, potentially gamechanging technology such as automatically opening "falcon" wing doors that make it easy to enter the car and can open fully even when sandwiched between two other cars. 
You've always got one of the best views of the road. Look at that windshield and you'll notice just how much glass is surrounding the cockpit of the car. It's actually the largest all-glass panoramic windshield that's currently in production. One of the wildest features is a medical-grade HEPA filter that seals the cabin away from potentially harmful bacteria, viruses, and allergens and it even has a bioweapon defense mode just in case. 
The Model X will launch with two models: a 90D package that has approximately 257 miles of driving range, all-wheel-drive, a 0-60 time of 4.8 seconds, and a 155 mph top speed and a P90D package that also has all-wheel drive, a 0-60 time of 3.8 seconds, and a slightly lower driving range of 250 miles.
Pricing starts at $132,000, Tesla