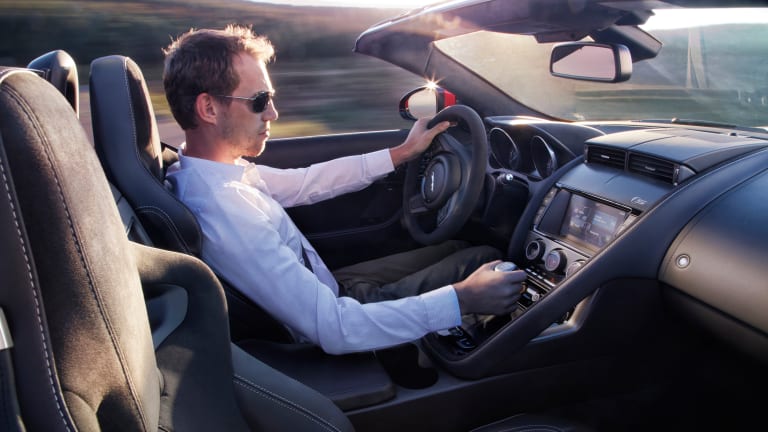 The Six-Speed Saviors
We highlight some of the best modern cars that are keeping the manual alive.
You can praise the advancements of paddle-shift technology all you want, but they will never capture the feel of a good manual transmission. We've highlighted some of our favorite cars that are keeping the manual alive and in a world where automatics are quickly replacing their manually-shifting ancestors, even to the point where some of these cars can drive themselves, a good ol' six speed has never been more enticing. 
The Jaguar F-Type
One of the latest cars to bring the spotlight back to the manual transmission is the Jaguar's roaring F-Type Coupe. One of the most beautiful cars on the road today, the leaping cat not only offers a proper 6-speed in their hard top model, but also produces a version in their convertible as well. Rear Wheel Drive, 340 hp, and a six-speed manual? Sounds like the perfect recipe to us. 
$65,000, jaguarusa.com.
The BMW M4
Does the M4 really need an introduction? What many consider the benchmark for performance coupes gets a more efficient 3.0L TwinPower Turbo V6 that produces 425 hp and 406 lb-ft of torque which will get you from 0-60 in 4.1 seconds. And if you need some extra room, you've also got the BMW M3. Both cars come with a 6-speed, standard. 
$62,000, bmwusa.com.
The Shelby GT350
The Ford Mustang has been an instant hit with enthusiasts and their upcoming Shelby GT350 is set to hit dealerships later this year with its throaty 5.2L V8 that puts out over 500 hp. Match that with a TREMEC 3160 6-Speed and you have a Cobra that Carol, himself would be proud of. And if you can't wait, Ford offers a full range of Mustangs from the 2.3L EcoBoost Fastback to the 5.0L V8 GT and each and every one of those Mustangs comes with a six-speed manual right out of the gate. 
Pricing $TBD, ford.com.
The Cadillac ATS-V
A Cadillac that can reach speeds over 185 mph? This is definitely not your grandfather's Cadillac. The ATS-V takes their V-Series division into a whole new territory and it's safe to say that they're ready to take on the best of the best with a mountain of horsepower and a 6-speed transmission that features Active Rev Matching, Performance Traction Management, and No-Lift Shift. 
$61,460, cadillac.com.
The Boxster Spyder
A high-performance drop-top Porsche that only comes in a manual? What's not to love? A favorite of purists and Porschephiles alike, the Boxster Spyder is back this year with an even sleeker design, more power, and a top speed of 180 mph. When it comes to convertibles, it really doesn't get much better than this. 
$82,100, porsche.com.
The Corvette Z06
Noticing a trend here? The Americans love their manual transmissions and we're not giving them up any time soon. Chevy's new Corvette Z06 is one of the most affordable supercars in the world with a 6.2L V8 that puts out 650 hp which will get you from 0-60 in 3.0 seconds, not only that you get 7 gears to play with and active rev matching.
$79,000, chevrolet.com.
The Mazda MX-5 Miata
The MX-5 Miata is back and looking better than ever with a whole new design and that sporty, open-air driving experience you know and love. The car has stayed true to its roadster roots and will offer a RWD setup, 155 hp, 148 lb-ft of torque, and an almost perfect 50/50 front/rear weight distribution. 
$24,915, mazdausa.com.
The Aston Martin Vantage GT
Aston Martin dropped a bombshell of an announcement when they revealed that new Vantage GT would be their most accessible car yet, priced at an incredibly reasonable $99,900. Available in coupe and roaster editions, the Vantage GT features their 430 hp 4.7L V8, a 0-60 time of 4.6 seconds, and a top speed of 190 mph. 
$90,900, astonmartin.com.
The Dodge Viper
One of the most celebrate six-speeds in automotive history is without a doubt the Dodge Viper, a car that has never featured an automatic transmission since its production debut in 1992. Today, the 5th Generation Viper continues on with its menacing presence and a terrifying 8.4L, 645-hp V10. 
$94,995, dodge.com.
The Porsche 911
Porsche's PDK transmission is one of the best transmissions out there, but we're not talking about automatics here. As celebrated as PDK is in the Porsche lineup, the boys up in Stuttgart still have a soft spot for a proper manual and that is evident throughout the line as Porsche still offers the option in more than a handful of cars from the base 911 to the Targa 4 GTS. 
$84,300, porsche.com.