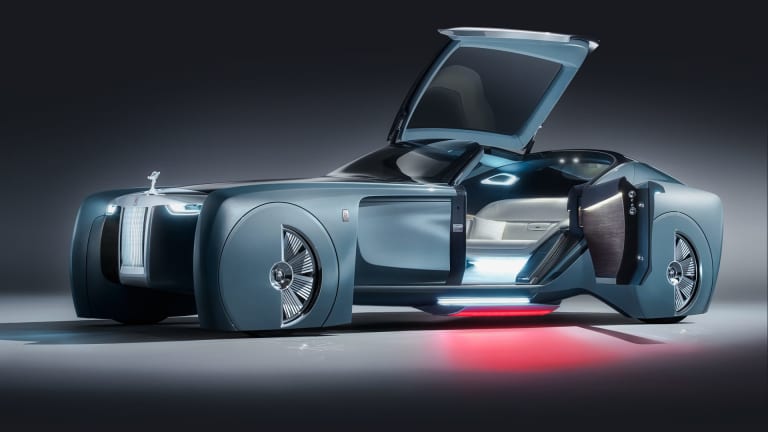 Rolls-Royce's 103EX offers a sneak peek into the brand's future
The company prepares for an autonomous future with their most luxurious concept to date.
Rolls-Royce has an idea of what the future could hold for the king of the luxury car and you better believe it'll be completely autonomous. The 103EX kicks Jeeves out of the driver's seat and replaces him with Eleanor, a virtual assistant and chauffeur named after Eleanor Thornton, who the Spirit of Ecstasy was modeled after. 
As Eleanor readies the car for its set destination, you will enter what the Rolls-Royce calls the "Grand Sanctuary", a luxurious, carriage-like lounge that is features Macassar wood paneling, deep-pile ivory carpet, and a silk and wool-wrapped sofa. A large OLED screen sits in front of the sofa giving you information about your route or screens your chosen entertainment option. 
As for the design, the car stretches as long as the current Phantom Extended Wheelbase and features a unique interpretation of the Rolls-Royce silhouette while keeping the signature Pantheon grille and that classic boat-tail rear. The design is sure to polarize Double-R aficionados, but provides an exciting look at the future of the ultimate luxury automobile.