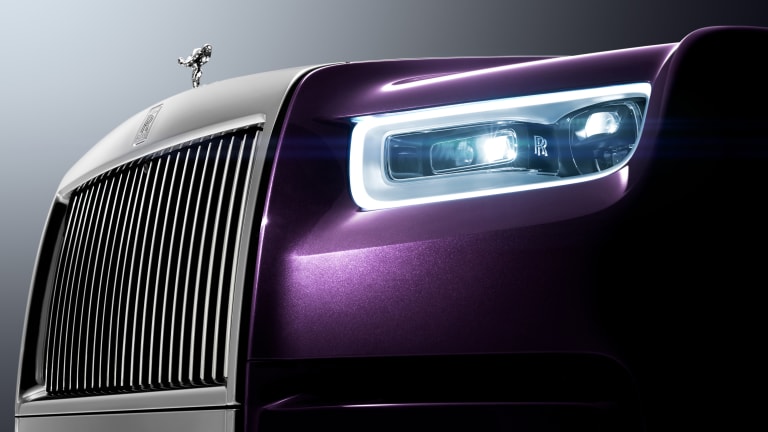 Rolls-Royce reveals the eighth generation Phantom
The ultimate luxury car.
For their new flagship, Rolls Royce wasn't content with simply building a new look and feel for their eight generation Phantom. The company is building an all-new car from top-to-bottom and this starts with a Rolls-Royce-designed all-aluminium spaceframe architecture that will be exclusive to its cars from this point forward. 
This created a car that is 30% more rigid than the previous monocoque structure, which increases the overall comfort and the type of handling you could only get in a Rolls-Royce. A new double-wishbone front axle, 5-link rear axle, and four-wheel steering keeps everything ultra-stable while the next-generation of self-leveling air suspension and a stereo camera reads the road conditions to enhance the car's signature 'Magic Carpet Ride.'
Of course, you couldn't affix the double R badge without a cabin that is incredibly silent. They aimed to create the most silent car in the world with 6mm two-layer glazing, cast aluminum joints, exclusive 'Silent-Seal' tires, and sound-absorbing materials to create the perfect acoustically-insulated environment. 
When it comes to power, the Phantom receives an all-new 6.75-liter V12 that produces 563 hp that is coupled with a Satellite Aided Transmission and an 8-speed gearbox. Though the engine has tons of power, Rolls-Royce managed to maintain the car's silent qualities by delivering more lower-end output at lower revs.
Automatic doors greet you as you step inside the ultra luxurious interior, which features their largest Starlight headliner yet, extensive high-gloss wood panelling, and excessive (but necessary) details such as angled rear seats that allow passengers to talk to each other without straining their necks and heated surfaces all throughout the interior. 
One of the biggest design highlights is what they're calling 'The Gallery', which adorns the dashboard with artwork that can be specially commissioned by an artist or designer of the owner's choice. Other treatments in leather, wood, silk, metal, or glass can be specified in place of the bespoke artwork for faster delivery.