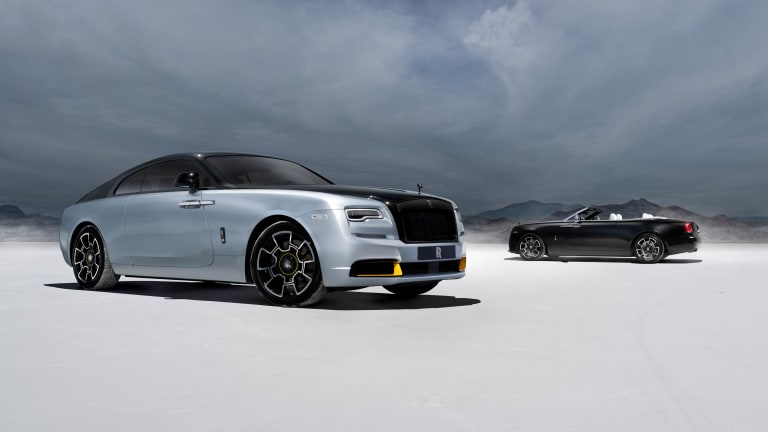 Rolls-Royce's Landspeed Collection is an ultra-luxurious tribute to the fastest man on the planet
The cars pay tribute to George Eyston, who set a land-speed record o 357+ mph in 1938.
Rolls-Royce releases a new special edition Wraith and Dawn Black Badge that celebrates the records set by British engineer Captain George Eyston, who for a brief time was the fastest man on the planet. In 1938, Eyston set a land-speed record of 357.497 mph in the jet-like Thunderbolt, which was powered by two Rolls-Royce R V12 aero engines. Both cars are finished in a specially created two-tone finish of Black Diamond Metallic and a new bespoke color, Bonneville Blue. 
Elements of both the Thunderbolt and the Bonneville Salt Flats detail the cars with a special Starlight Headliner that is an exact recreation of the night sky on September 16th, 1938, which is the evening the record was set. You'll also find a perforated dark detail in the upper center of the steering wheel that is inspired by the black lines on the salt bed that kept Eyston in a straight line, an engraved fascia that emulates the look of the Salt Flats, laser-engraved silhouettes of the Thunderbolt, and a clock design inspired by the instrument dials in Thunderbolt. 
Limited to 60 cars in total, every car in the Landspeed Collection has been sold. 
---