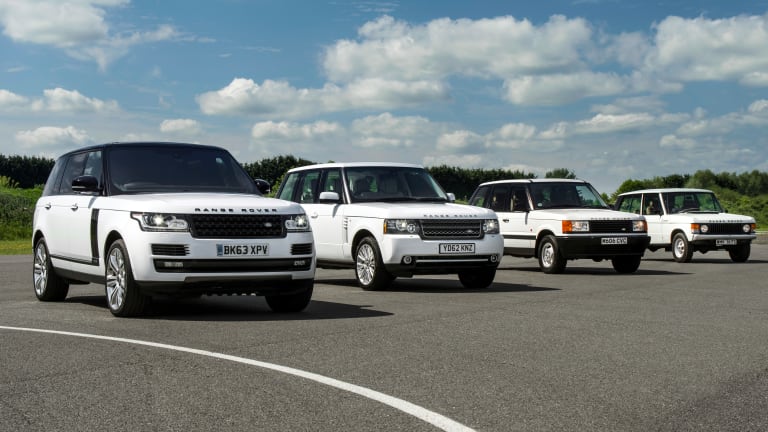 Land Rover celebrates the 45th Birthday of the Range Rover
45 years of one of the most capable cars to ever hit the road.
It is one of the most loved cars on the road today and since its debut in 1970, the Range Rover has set the benchmark for what a luxury off-roader should be. Today the car is celebrating its 45th birthday and Range Rover is bringing a spotlight to all four generations of the legendary SUV.
Starting with the first generation in 1970, the Range Rover Classic was only available with two doors and touted an aluminum V8 engine, full-time four-wheel-drive, and a four-door model we all know and love came in 1985. 
That was followed up with the P38a in 1994 which innovated with height-adjustable suspension and was one of the first cars to ever include GPS with its Linley Special Edition in 1999. 
The third generation Range Rover amplified the luxury and grew in size with an interior inspired by yachts and first-class cabins which is carried on today with the fourth generation Range Rover which is the world's first ever all-aluminum SUV. 
Timeline (via Land Rover):

1966 Work began on the first Range Rover prototype, known as the '100-inch station wagon'
1970 The original two-door Range Rover - known as the Classic - goes on sale
1971 Range Rover receives the RAC Dewar award for outstanding technical achievement
1972 The Range Rover is the first vehicle to cross the Darien Gap on a British Army Trans America expedition
1974 Range Rover completes west to east Sahara desert expedition - 7,500 miles in 100 days
1977 A modified Range Rover wins the 4x4 class in the London-Sydney Marathon, a gruelling 30,000 km (18,750 miles) event and the longest ever speed-based car rally
1979 A specially modified Range Rover wins the first Paris-Dakar rally (a Range Rover wins again in 1981)
1981 First production four-door Range Rover appears along with the first factory produced limited-edition Range Rover - the 'In Vogue'
1982 Automatic transmission becomes available on Range Rover
1983 Range Rover 5-speed manual gearbox is introduced
1985 The diesel-powered Range Rover 'Bullet' breaks 27 speed records, including a diesel record for averaging more than 100mph for 24 hours
1987 Range Rover launched in North America
1989 Range Rover is the world's first 4x4 to be fitted with ABS anti-lock brakes
1990 Limited Edition CSK - named after founder Charles Spencer King - is launched as a sportier Range Rover
1992 Range Rover Classic is the world's first 4x4 to be fitted with Electronic Traction Control
1992 Long-wheelbase LSE (known as County LWB in the US) launched
1992 Automatic electronic air suspension introduced, a world first for a 4x4
1994 Second-generation (P38a) Range Rover launched
1996 Range Rover Classic bows out after total production of 317,615 units
1999 Limited Edition Range Rover Linley appears at London Motor Show
2001 Third-generation (L322) Range Rover launched
2002 Half-millionth Range Rover produced at the Solihull plant
2005 Second model line - the Range Rover Sport - launched
2006 Terrain Response and TDV8 diesel introduced
2009 Range Rover features all-new 5.0-litre V8 and 5.0-litre supercharged petrol engines
2010 Range Rover celebrates its 40 anniversary,
2011 Third model line - the Range Rover Evoque - goes on sale
2012 Fourth-generation (L405) Range Rover launched - the world's first all-aluminium SUV
2013 Long-wheelbase Autobiography Black Edition unveiled at the Los Angeles Motor Show
2014 Long-wheelbase Range Rover Hybrid makes its world debut in China
2015 Range Rover SV Autobiography launched at New York International Auto Show.
6,000,000 Land Rover produced is a Range Rover LWB SE Vogue destined for China.
More at landrover.com