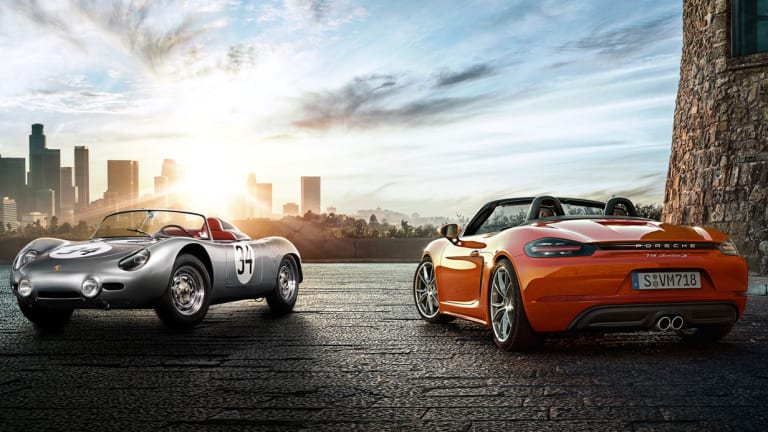 Porsche's new Boxster follows in the footsteps of the original 718
Fast four-cylinders make their debut in Porsche's new roadster.
Porsche continues the tradition of four-cylinder powered 718s with its latest update to the Boxster. Now called the 718 Boxster, the mid-engine roadster introduces the company's new turbocharged four-cylinder engine that produces 300-hp and 350-hp in the "S" model. Those new engines will help the car hit a 0-60 time of 4.5 seconds and a top speed of 170 mph and the "S" model will have a 4.0 second 0-60 time and a top speed of 177 mph. 
Purists are sure to appreciate that both cars will come with six-speed manuals standard and of course, Porsche PDK is also available. The exterior of the car also gets a handful of updates including a more aggressive front end with larger cooling intakes and newly redesigned Bi-Xenon or LED headlight options. The sides get larger inlet panels with dual "fins" and the rear gets updated with three-dimensional LEDs and four-point brake lights. The 718 officially goes on sale today and will land at dealers in June.
From $56,000, porsche.com