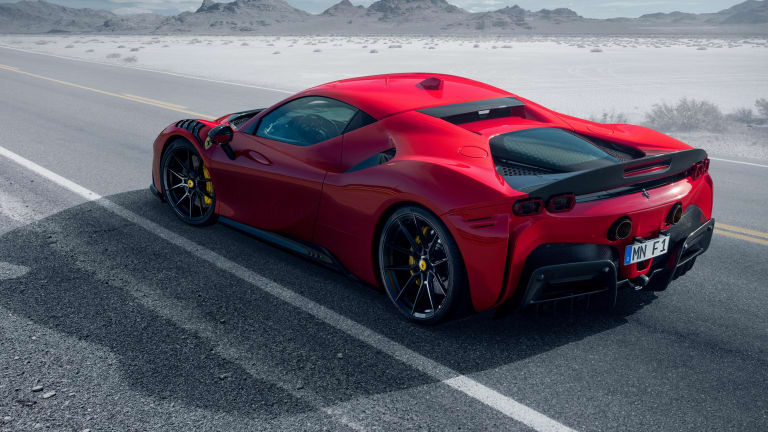 NOVITEC unveils its upgrades for the Ferrari SF90 Stradale
The comprehensive upgrades include a 109 hp boost in performance.
NOVITEC offers up its upgrade package for the Ferrari SF90 Stradale with an engine tune, naked carbon aerodynamic components, and an exclusive set of forged wheels. At the heart of it all is the upgrade to the SF90 Stradale's hybrid drive system, which receives an extra 109 hp, making for a total of 1,109 hp, allowing for a 0-62 time of 2.4 seconds and a top speed of over 211 mph. This is achieved via two plug-and-play NOVITEC N-TRONIC control modules and a high-performance exhaust system. 
On the aero side, the car features a new spoiler, detachable side sections, carbon front flaps, carbon front fenders with air outlets above the tires, rocker panels, air deflectors in the quarter panels, roof spoiler, rear fascia diffuser, and a large ducktail rear wing, all of which are constructed in carbon fiber. NOVITEC also worked with Vossen on an exclusive forged wheel in 20" or 21" sizes. Last but not least, a set of sport springs are available o lower the car by over and inch, which can be combined with a front lift system. 
---