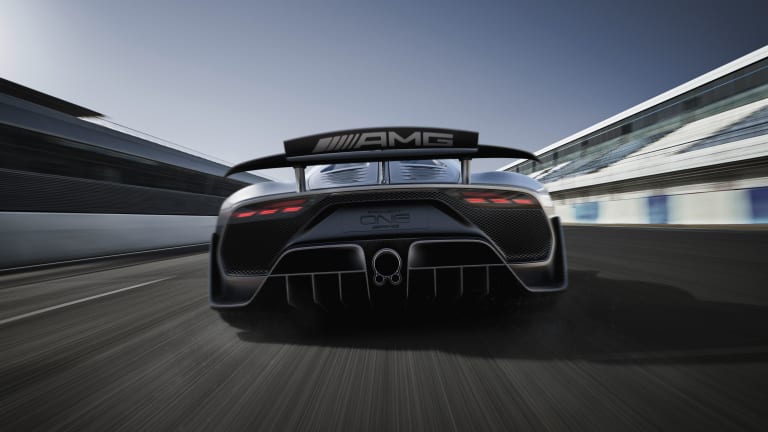 Mercedes-AMG's Project ONE brings the latest F1 technology to the road
The hybrid hypercar producers over 1000-hp.
Mercedes is finally revealing the Project ONE hyper car after almost a year of teasers and boy oh boy, was it worth the wait. The hybrid hypercar uses the latest F1 technology to allow for something that is incredibly capable on the track, but can also be used as a daily driver. The car is powered by an F1-sourced, turbocharged 1.6L V6 and four electric motors that combine to produce over 1,000-hp and allows for a top speed in excess of 217 mph. 
That power is complemented by an all-new 4MATIC+ all-wheel drive system and two additional 120 kW electric motors at the front axle, a hybrid-drive rear axle, and torque vectoring. Mercedes has also developed a brand new, automated 8-speed manual transmission that sends power into the rear wheels and is activated hydraulically with an automated or paddle-shifted manual mode. 
Other details include a forged wheel with a radial carbon-fiber semi-cover that enhances the car's aerodynamics, 15 miles of all-electric driving, an endless array of aerodynamic enhancements that include a vertical shark fin to improve lateral stability, air intakes galore, and an F1-inspired interior with seats that integrate into the monocoque chassis. 
The release date and pricing of the production model has yet to be determined.