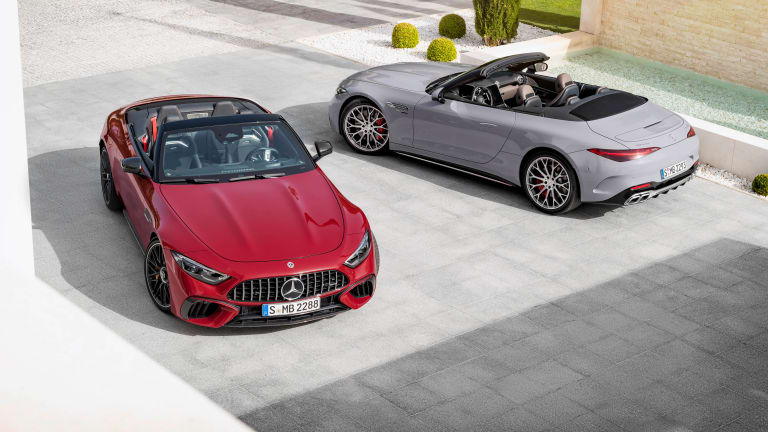 Mercedes-AMG unveils the all-new SL
The new roadster packs AMG performance, all-wheel-drive, and an all-new architecture.
Mercedes-AMG has taken the responsibility of developing the new SL and it looks like they've delivered in a big way. The iconic roadster sits on an all-new architecture and is powered by an AMG V8 that will launch in two variants: the SL 63 and the SL 55. The SL 63 produces 577 hp and 590 lb-ft of torque and has a 0-60 time of 3.5 seconds while the SL 55 produces 469 hp and 516 lb-ft of torque and has a 0-60 time of 3.8 seconds. An E Performance Hybrid and additional engine options are planned for the near future.
Both models will feature 4MATIC+ all-wheel-drive, which is the first time ever the SL has been equipped with an AWD system and rear-axle steering comes standard to enhance the car's handling and agility. Other details include AMG Active Ride Control active anti-roll stabilization, an electro-hydraulic soft top that can open and close in 15 seconds at up to 37 mph, and a unique center touchscreen that can be electrically adjusted from 12 to 32 degrees to reduce glare. 
---