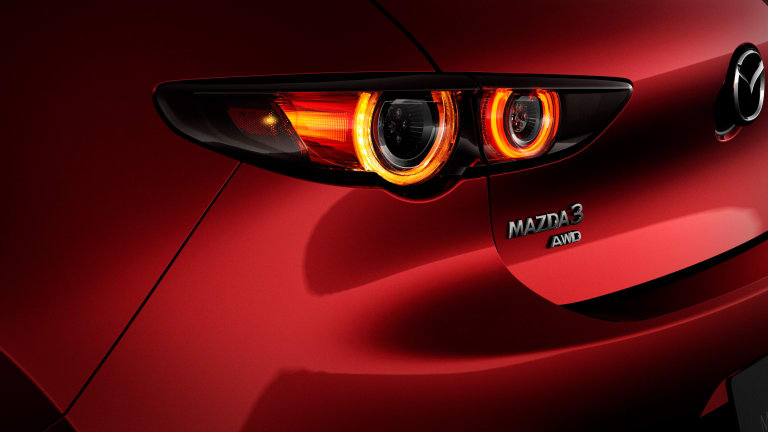 Mazda continues to take the brand upmarket with the all-new Mazda3
The new model showcases the latest evolution of its acclaimed Kodo design language.
Over the last few years, Mazda has been reintroducing itself as a more premium brand and that all culminates in the next big chapter of the brand, the all-new Mazda3. Drawing from the Kai Concept revealed last year, the new hatch keeps those concept car looks with a design that is unmistakably Mazda yet brings something bold and new to the category. 
Applying a "less is more" attitude to the interior, the company refined their cabins with a clean and simple look that features details such as air vent louvers that follow the lines of the instrument panel and two-layer molding technology that puts a laser-engraved layer over a second clear layer that they describe as a  "glossy black finish with a look of deep transparency." 
A lot of attention has also been paid to how passengers connect to the car from both the driver's side perspective as well as the connectivity side. They've done things like adjusting the height and position of the shift lever to make it easier to move from the steering wheel to the shift lever and they even improved the car's field of view by calculating what neck and eye movements would place more strain on the driver, which dictated the design of the pillars and helped reduce blind spots. 
The interior has also been carefully tailored to improve acoustics and will be available with an 8-speaker system or a 12-speaker audio system from Bose. This will be joined by a new 8.8" display that gives you access to their Mazda Connect system. Power options will include an array of gas-powered Skyactiv engines that include 1.5L, 2.0L, and 2.5L gas options as well as a 1.8L diesel option. AWD will also be introduced in this generation and automatic and manual transmission options also be available.