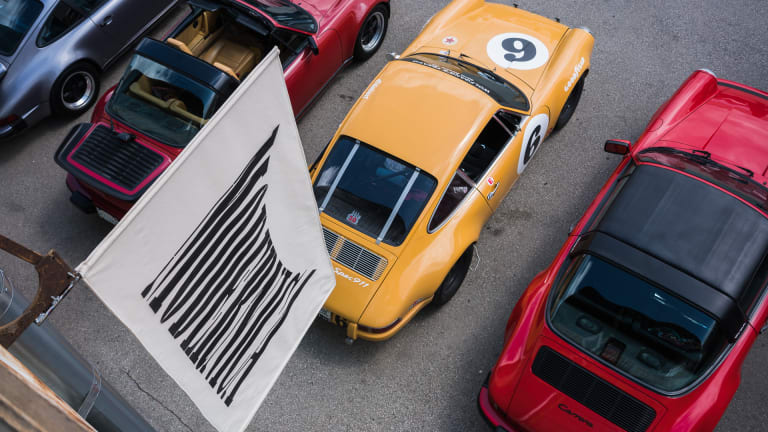 Celebrating the air-cooled art form at Luftgekühlt III
We head down to Modernica to check out one of the best Porsche gatherings in the country.
A deeply shared passion for Porsche brought together automotive enthusiasts from all walks of life at this year's Luftgekühlt gathering. A collection of highly sought-after and rare Porsches were showcased alongside each other in a unique and unforgettable setting at Modernica. The modern furniture maker hosted the event at their Southern California facility and opened their warehouse doors to give an inside look of their operation.  
Exceeding the expectations of founders Patrick Long and Howie Idelson, close to 600 vehicles were on display and over 4,000 guests came to join in on the festivities. "We were so privileged to have this collection of our curated cars, many of which people had never seen before. The response is something Patrick and I are still trying to make sense of", said Howie Idelson. "I think we both woke up feeling like the Monday after a win on race day." 
In conjunction with the event was a special auction held by RM Sotheby's for a a special Porsche called the LUFTAUTO, which was a collaboration between some of the top tuners and brands including Emotion Engineering, Rod Emory, Pelican Parts, Benton Performance, Pirelli Tire and many others. The winning bid was an incredible $275,000 of which the proceeds went to The Autumn Leaves Project, a foundation for Pancreatic Cancer. 
The lifestyle component of this event is what separates it from other car gatherings. Two limited edition art chairs from Luftgekühlt, Deus Ex Machina, and Modernica were released at the event and Modernica even provided a custom wood shift knob and the floorboards for the LUFTAUTO. When asked about the collaboration and working with Modernica, Howie said, "Everything we asked of them, the answer was "Sure, we can do that." I think we're friends for life now." Finding the right partners with a like-minded approach seems to be the key to this event's success, which doesn't seem to have reached it's full potential.  
When asked about the future of Luftgekühlt, Howie simply stated, "After each of the big events, Pat and I have said maybe we should be done because we could never live up to what we just pulled off. And while there is some of that this time, we're both really inspired to push ourselves to take things farther. So to answer the question, yes we have stuff in the works. I guess best to stay tuned."
For more on the event visit luftgekuhlt.net