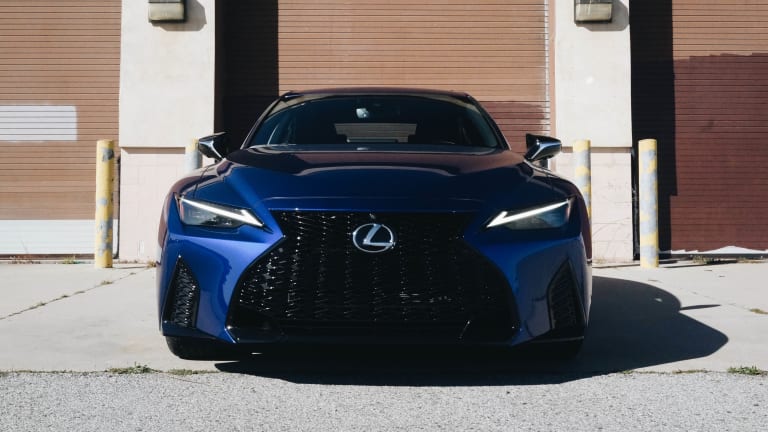 Fluidity and Firepower | Exploring the on and off-track capabilities of the new Lexus IS 350 F Sport
The company's new IS is all about balance.
The 2021 Lexus IS 350 F Sport is a car that is both emotional and minimal in its design and performance. It strikes this delicate balance of being a performance car while also being more than adept as a daily driver. The fourth-generation IS brings the most aggressive expression of the model to date with a chiseled new look and a muscular build that we think definitely stands out when sat next to its European rivals. 
Under the hood is a 311 hp V6 engine, which can be paired with the Dynamic Handling Package seen in our tester above. The package includes 19" matte black BBS wheels, an Adaptive Variable Suspension, and a Torsen limited-slip rear differential. It's a setup that felt both sporty and refined in our testing, smoothly tackling the corners of Northern California backroads with ease and comfort. This can be attributed to the car's G-force sensors that automatically adjust the damping to control body roll. 
The driver-focused cabin has a sort of technical luxury aesthetic to it with accents of black ash wood, bolstered, body-wrapping seats, and all the necessary connectivity. You've got both Apple CarPlay and Android Auto integration, Amazon Alexa compatibility, remote start via your smartphone or smartwatch, an available 17-speaker Mark Levinson sound system for the audiophiles, a whole suite of advanced safety systems watching your back, and one of the coolest dashboards we've ever seen. 
While many automakers are going with a fully digital display, Lexus added a mechanical touch with a sliding bezel that can be activated at the push of a button to expand the display to reveal additional information. And if it looks familiar, the gauges were directly inspired by its supercar sibling, the LFA. 
Lexus also invited us out to Laguna Seca to witness the F Sport tech in its natural habitat. One of the activities at the company's Lexus Performance Driving School ($995) is an autocross track designed specifically for the IS 350 F Sport, giving drivers the chance to test out the car's handling. In our experience, the F Sport continued to impress with its level of agility and handling and if you don't believe us, you can actually go and try it yourself. Not only do you get to push the limits of the IS 350 F Sport, you also get to take a 500+ hp RC F on a skid pad, and drive on the world-famous Laguna Seca circuit in an LC 500. 
Now, the ultimate question always is: why this over "Audi/BMW/Mercedes." The IS 350 F Sport certainly delivers on all fronts. It's got the performance, comfort, and looks you would want in a car in this class and while it isn't going to win any awards in the technology department, there's something about keeping the driver experience as pure as possible without being overwhelmed by every extraneous bell and whistle. As we've mentioned at the beginning of the article, it's a car that's about balance and we genuinely think it hits that sweet spot of design, luxury, and performance. And if that's still not enough for you, the IS' performance story continues this fall with a 472 hp, V8 model. 
---
From $42,950 (price as tested: $56,360), lexus.com